The Clan Farquharson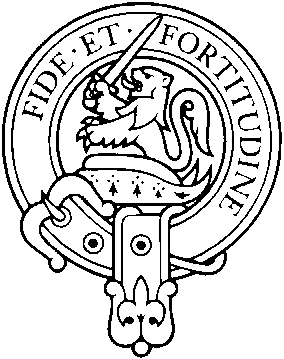 Arms: Quarterly, 1st and 4th, Or, a lion rampant Gules, armed and langued Azure (for Farquhar Shaw, descended from MacDuff, Earl of Fife); 2nd and 3rd, Argent, a fir tree growing out of a mount in base Vert, seeded Proper, on a chief Gules the Banner of Scotland displayed Or, and a canton of the First charged with a dexter hand couped at the wrist fessways holding a dagger point downwards of the Third
Badge: The upper half of a lion rampant, with sword in his paw.
Crest: On a chapeau Gules furred Ermine, a demi-lion Gules holding in his dexter paw a sword Proper
Motto: Fide et fortitudine (By fidelity and fortitude)
Plant Badge: Red Whortleberry, Scots Fir
Gaelic Name: MacFhearchair
Tartan: Farquharson, Ancient Farquharson, Hunting Farquharson
Septs: Barrie, Bowman, Brebner, Christie, Christison, Christy, Coates, Coats, Coutts, Cromar, Farquhar, Ferries, Findlay, Findlayson, Findlaison, Finlay, Finlayson, Gracie, Grassick, Greusach, Hardie, Hardy, Kellas, Kerracher, Leys, Lyon, MacArtney, MacGaig, MacCartney, MacCuaig, MacEaracher, MacErcher, MacErracher, MacFarquhar, MacHardie, MacHardy, MacKerchar, MacKerracher, MacKindlay, MacKinlay, MacKinley, Paterson, Patterson, Reiach, Reoch, Riach, Tawse.
Clan Farquharson, of Celtic origin, derives from Farquhar, fourth son of Alexander "Ciar" Mackintosh of Rothiemurchus, 5th Chief of Clan Shaw. A grant of arms made by Lord Lyon in 1697 stated that John Farquharson of Invercauld was lawfully descended of Shaw son of MacDuff, Thane of Fife whose successors had the name Shaw until Farquhar Shaw, son to Shaw of Rothiemerchus, Chief of the whole name came to be called Farquharson. Thus the Farquharsons branched from <! A HREF="../Shaw/shaw.html">Clan Shaw. Farquhar settled in the Braes of Mar and was appointed baillie or chamberlain thereof.

It was Donald Farquharson who married Isobel Stewart, heiress of Invercauld and their son Finlay Mór, 1st of the House of Farquharson of Invercauld, who gave to the Farquharson Chiefs their style MacFionnlaidh (siol Fhionnlaidh or descendents of Finlay).

At the age of 60, Finlay Mòr accompanied the Earl of Huntly to the Battle of Pinkie in 1547 as the Royal Standard Bearer. As the army descended toward the sea he was killed by a cannon ball fired from one of the enemy ships. His body lies interred in the church yard of Inveresk. The place is known to this day as the "Lang Highlandman's Grave." His widow, Beatrix Garden, also has a claim to remembrance having been an outstanding performer on the little harp or clársach. Queen Mary presented one of these instruments to her and this instrument is now preserved in the National Museum of Antiquities as one of two surviving examples of the musical instrument which Celtic Scotland shared with Ireland before the music of the bagpipe had achieved its full popularity and sophistication.

The Farquharsons having moved onto their Deeside inheritance became vassels of the Earldom of Mar. In the early 17th century they were able to purchase feu charters to their lands and after the attainder of the Earl of Mar, who led the Jacobite rising of 1715, they held these directly of the Crown. Today the Castle of Braemar, which was built in 1628 by James Erskin, Earl of Mar, is owned by Captain Alwyne A. C. Farquharson.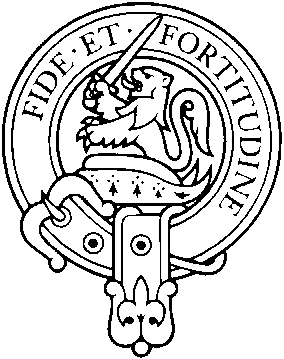 Clan Farquharson were among the most loyal and faithful adherents to the House of Stewart and throughout all the struggles on its behalf constantly acted in accordance with their motto, "Fide et Fortitudine". They fought under Montrose in 1644 and formed part of the Scottish army under Charles II at Worcester in 1651. They joined forces under the Viscount of Dundee in 1689 for James VII. At the outbreak of rebellion in 1715 against the Act of Union they were the first to muster at the summons of the Earl of Mar in the cause of James VIII. At this time John Farquharson of Invercauld with four officers and one hundred and forty men joined the Clan Chattan regiment, of which he was Lieutenant-Colonel, accompanying it to England. When first threatened the Frquharsons marched out of Preston to Ribble-bridge to attack the English army but were ordered to rejoin the main body. At the subsequent Battle of Sheriffmuir the Scottish army was defeated at Preston and John Farquharson was taken prisoner and held for ten months in the Marchalsea prison in London. In 1745 the Farquharsons joined Prince Charles and formed two battalions, one under Francis Farquharson of Monaltrie, "the Baron Ban", with 300 men and the other under Farquharson of balmoral. In the Battle of Culloden, April 16, 1746 they occupied the centre of the line of battle with Clan Chattan along with the Camerons, Macleans and MacLachlans.

John Farquarson of Invercauld, 9th Chief, died in 1750 and was succeeded by his son James, 10th Chief, a Captain of Foot in the Hanoverian Army, who died in 1805. His only surviving child Catherine, by virtue of the Lyon Court Decree, 1815, assigning the chief arms and supporters, was head of the ventral or "stem" family of Farquharson of Invercauld and so was Chief of the Clan. She married captain James Ross, Royal Navy, who took the name Farquharson. She was succeeded by her son, James, who was succeeded by Alexander Haldane Farquharson of Invercauld, who died in 1936. His daughter, Mrs. Myrtle Farquharson of Invercauld was confirmed Chief by Lyon Court Decree on December 3, 1936. She, unfortunately, was killed in an air-raid in 1941. The succession then passed to her nephew the present and 16th Chief of Clan Farquharson. Captain Alwyne Arthur Compton Farquharson of Invercauld was by Lyon Court in 1949 confirmed MacFionnlaidh. He served with distinction as a Captain in the Royal Scots Greys during World War Two. He resides at Invercauld Castle in Braemar on Royal Deeside. The Farquharson estate covers about 200,000 acres of forest and moor in the Grampian region in Aberdeenshire.
---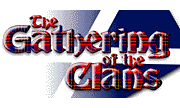 ---
Copyright &copy DISCscribe Ltd. 1997 - All rights reserved.