The Clan Gordon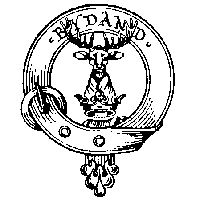 Arms: Quarterly, 1st, Azure, three boars' heads couped Or, armed Proper langued Gules (Gordon); 2nd, Or, three lion's heads erased Gules langued Azure (Lordship of Bedenoch); 3rd, Or, three crescents within a Royal Tressure Gules (seton); 4th, Azure, three fraises Argent (Fraser)
Badge: Out of crest coronet a stag's head (affrontée) Proper attired with 10 tines Or.
Branches: Gordon of Haddo, Gordon of Lochinvar, Gordon of Strathbogie
Tartan: Gordon, Gordon (red), Gordon (dress), Gordon (old, triple stripe)
Mottos: Bydand (Abiding), Animo non atitia (By courage not cunning)
Slogan: A Gordon! A Gordon!
Gaelic Name: Gôrdon
The name Gordon comes from the parish of Gordon in Berwickshire and Sir Adam of Gordon was granted Strathbogie, confiscated from the Earl of Atholl, in Aberdeenshire by Robert the Bruce in return for service to Bruce's cause, including being one of the ambassador's to Rome who fought to have the Bruce's excommunication removed. The Gordon's weilded enormous power during the 16th and 17th centuries, so much so that their chief was known as "the Cock of the North".

The castle of Strathbogie was renamed Huntly after a part of the Gordon lands in the Borders. In 1436 Alexander Gordon was named Lord Gordon and his son was given the title of Earl of Huntly.

During the fighting between the Douglases and the King, the Gordon's sided with the Royals. Their lands were then raised and the castle of Huntly burned when the Gordons moved south to aid the King. However, once the power of the Douglases was broken the Gordons grew unchallenged.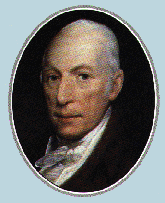 The fourth Duke of Gordon raised, at his own expense, his own regiment known as the Gordon Highlanders for whom the yellow stripe was introduced into the Black watch tartan. He was also Chancellor of Scotland in 1547 and was a close friend of Mary of Guise Mary Queen of Scots mother.
During the 1715 and 1745 Jacobite rebellions the Gordon's fought on both sides. The second Duke of Gordon followed the "Old Pretender" at Sheriffmuir but the third Duke fought for the Hanoverians against Prince Charlie at Culloden. The Dukes brother, Lord Louis Gordon, did raise two battalions of Gordons to fight for the Prince. He died in France in 1754.
The mother of the famous poet Lord Byron was Catherine Gordon of Gight, who inherited Gight Castle and its lands, only to have to sell them in 1787 to pay off the gambling debts of her husband.
---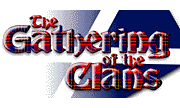 ---
Copyright &copy DISCscribe Ltd. 1997 - All rights reserved.