Clan MacArthur Contacts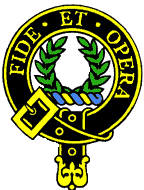 The Clan MacArthur Society was founded in 1974 in the United States. Early in 1986, independent MacArthur Societies were established in Canada and Great Britain and, later, in New Zealand and Australia. The Societies remain closely affiliated, sharing the same interests and ties and exchanging news and ideas through the MacArthur newsletter, "The Round Table".
Clan or Society? The Difference:
A Clan Society is not a Clan. The Clan MacArthur Society was organized prior to the reestablishment in 1991 of Clan Arthur in Scotland. The U.S. Society now functions as a cooperating branch of Clan Arthur, working closely with the Commander of the Clan to ensure accuracy in matters of research, protocol, and all things Scottish.

Objectives of the United States Society parallel those of its sister groups but, specifically, those of the American Society are to -
Cultivate a spirit of true kinship among our clanfolk and restore and maintain close ties with other MacArthurs, wherever they may be.
Collect, preserve, publish, and disseminate data that pertain to Clan Arthur and MacArthurs and maintain such files in the Ellen Odom Genealogical Library in Moultrie, Georgia, and any other such determined repository.
Support and encourage the research of all MacArthur genealogical records and data by the Society's Genealogical Committee and the publication and exchange of such findings to the benefit of all MacArthurs.
Preserve in the Society research to discover a candidate entitled to be recognized by the Lord Lyon King of Arms as Chief of the Clan.
Make available awards and scholarships to applicants who seek to study, learn, and compete in certain of the Scottish arts including, but not limited to, piping, dancing, fiddling, harpistry, history, etc.
Inspire our members by helping to inculcate a spirit of pride in the Scottish heritage which has fostered many of the qualities that have contributed so significantly in shaping our modern social structure.
MEMBERSHIP REQUIREMENTS
Applications for membership may be made by -
Any person bearing the name MacArthur in any spelling form.
Any person who is married to such qualified applicant.
Any person who can claim descent from a MacArthur.
Friends of the Society who, in the opinion of the Executive Committee, can contribute to the well-being of the Society.
MEMBERSHIP BENEFITS
The Society recognizes that, as a family-oriented group, membership benefits are mutually received by old and new members. All members can experience the camaraderie of socially gathering at Scottish games held during the year. In addition, members -

Receive quarterly issues of the Society's newsletter, "The Round Table," by which they may express their opinions and interests and keep informed of the varied activities and programs of all MacArthur Societies.

Have access to a growing genealogical database of the names of MacArthurs worldwide and receive assistance in compiling their personal family trees.

Have the opportunity to learn and instruct their children in those things about Scotland and, in particular, the MacArthurs that make up their proud heritage.
FOR MORE INFORMATION PLEASE CONTACT ONE OF THE FOLLOWING:
UNITED STATES - Secretary

Mrs. Faith McArthur
Pinehurst, NC 28374
Telephone 910-295-3441
e-mail: DANM702525@aol.com

GREAT BRITAIN - High Commissioner

James E. M. MacArthur
14 Hillpark Wood
Edinburgh EH4 7TA
Scotland

CANADA - High Commissioner

Lloyd K. MacArthur
252 Kananaskis Green
Devon AB T9G 1Y8
Canada

AUSTRALIA - High Commissioner

Robert S. MacArthur
44 Kiora Street
Panania NSW 2213
Australia

NEW ZEALAND - High Commissioner

DR. Eric J.B. McArthur
P.O. Box 126
Carterton 5951
New Zealand

BOTSWANA - Dr. Malcolm McArthur, O.B.E.

PO Box 1465
Gaborone, Botswana
Email: fmoffice@global.bw
[an error occurred while processing this directive]