The Clan MacKintosh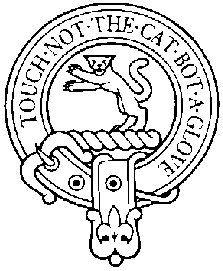 Arms: Quarterly, 1st, Or, a lion rampant Gules, armed and langued Azure; 2nd, Argent, a dexter hand couped fessways grasping a man's heart paleways Gules; 3rd, Azure, a boar's head couped Or, armed Proper and langued Gules; 4th, Or, a lymphad sails furled Azure, flagged and surmounted of her oars in saltire Gules.
Tartans: MacKintosh, MacKintosh (Hunting)
Motto: Loch Moigh (Touch not the cat bot a glove)
Crest: A cat-a-mountain salient guardant Proper
Plant Badge: Red whortleberry
Gaelic Name: Mac an Toisich
Septs: Adamson, Clark, Clerk, Clarkson, Combie, Crerar, Dallas, Elder, Esson, Glen, Glennie, Hardie, Hardy, MacAndrew, MacAy, MacCardney, MacClerich, MacChlery, MacCombe, MacCombie, MacFall, Machardie, Machardy, MacHay, Mackeggie, MacKillican, Maclerie, MacNiven, MacOmie, MacPhail, MacRitchie, MacThomas, Macvail, Niven, Noble, Paul, Ritchie, Tarrill
The word "Toisech", means "leader", or "chief". The Mackintosh seanachies say that the first chief was the second son of Duncan Macduff, Shaw. In 1160, Shaw Macduff went on an expedition with Malcolm IV to try to stop rebellion in Morayshire. In 1163, he was made constable of Inverness Castle and granted land in the Finhorn valley. The lands of Petty became the heartland of the clan and the place where the chiefs would be buried.

The fifth chief, Ferquhar, led the clan against the army of King Haakon of Norway at the Battle of Largs in 1263. In 1265, he was killed in a duel and left his infant son, Angus, as the hier. He was married in 1291 to Eva, the only daughter of Dougal Dal, the chief of Clan Chattan in Lochaber. The lands of Glenloy and Loch Arkaig were brought with Eva to the marriage. The couple lived on Clan Chattan lands at first, then they moved to Rotheimurchus. After that, the Clan Chattan was led by the Mackintosh chiefs.

The sixth chief supported Robert the Bruce during the War in Indepenence. The ninth chief had to surrender his title to Malcolm, the son of William, the seventh chief. Malcolm was a strong leader who had lands from Petty to Lochaber. In 1424, the Comyns took possession of some of the Mackintosh lands. There was feuding back and forth but it was supposed to have ended at a feast of reconciliation in the Comyn's castle. Unfortunately, this was a ploy by the Comyns to surprise the Mackintoshes but it was the Comyn's who were surprised. The Mackintoshes had been forwarned and were prepared for the attack.

In the late 17th century, the chiefship of Clan Chattan was in dispute between the chief of the Macphersons and Mackintoshes. In 1692 the matter was settled by the Lord Lyon in favour of the Mackintoshes.

In 1938, the twenty-eighth cheif died and the title was passed to his cousin, Vice Admiral Lachlan Mackintosh of Mackintosh. In 1942 the Lyon Court passed the leadership of Clan Chattan to Mackintosh of Torncastle. So the Clan Chattan, although still vested in a Mackintosh, is now with a different branch.
---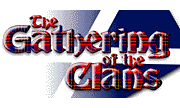 ---
Copyright &copy DISCscribe Ltd. 1997 - All rights reserved.