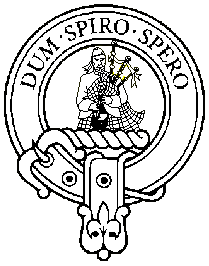 CHIEF'S VISIT AND TRICENTENNIAL CELEBRATION
Chief Ruairidh Donald George MacLennan of MacLennan will be our guest of honour in October, 1996:
---
We currently have $2239.17 in the Chief's Visit Fund. We still need your help to reach our goal of $3,886! It is vitally important that donations be received by May 1, 1996. As you can see, we have only 58% of the funds needed to finance the Chief's visit and a short time remaining in the fundraising campaign. Any donation will be greatly appreciated, large or small, and right now every penny counts!

MANY THANKS TO OUR GENEROUS DONORS AND SPONSORS:
PLATINUM ($500 +)

Hinkle & Doris McLendon -- South Carolina

GOLD ($250 - $499)

Helen (Mrs. Angus "Red") McLendon -- South Carolina
Mr. & Mrs. Lockhart McLendon -- South Carolina
Oregon State Defense Force Bagpipe Band

SILVER ($100 - $249)

Earl & Janet McLendon -- Georgia
Michael McLendon, DDS -- Texas
Dr. John A. Morgan -- Georgia
Col. & Mrs. George Roe -- Oregon

BRONZE ($50 - $99)

COPPER ($25 - $49)

Mrs. Sally J. Truhlar -- Texas
SPECIAL SPONSORS
The Stone Mountain Highland Games, Inc. will sponsor Chief Ruairidh's roundtrip airfare (Scotland to Atlanta) and Atlanta hotel expenses.

The Oregon State Defense Force Bagpipe Band, dressed in MacLennan tartan, will accompany our group throughout the Chief's visit.
---
Click here to view the Chief's Visit Registration Form and Itinerary which can be printed and mailed.
Please make checks payable to Clan MacLennan and mail to: Lockhart McLendon, 6160 Martha's Glen Road, Columbia, SC 29209 / Phone 803-776-6518 / Fax 803-776-9917. Thank you.
---
Back to Main Page