The Clan Barclay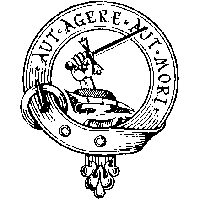 Badge: Out of a chapeau azure turned ermine a hand holding a dagger, proper
Motto: Aut agere aut mori - "Either action or death"
Tartan: Barclay
Origin of name: Place-name from Berkley, England
The Scottish Barclays claim descent from Roger de Berchelai of Gloucestershire who was recorded in the Domesday Book in 1086 and who came to England with William the Conqueror. Sir Walter Barclay of Gartly, Lord of Redcastle and Inverkeillor was appointed Chamberlain of Scotland under William the Lion. The male line of Gartley ended with Walter, Canon of Moray in 1456. His sister married the Laird of Towie-Barclay and so the chiefship was carried into that house.

The name was common throughout the 12th and 13th centuries in Kincardineshire and the East of Scotland. The Barclays of Mathers descend from Alexander de Berkeley, who married the heiress of Mathers in 1351. She was the sister of the Great Marischal of Scotland. Their descendants retained possession of these lands until David Barclay was forced to sell the estates for financial reasons in the 16th century.

Another branch of the family, the Barclays of Urie are descended from Colonel David Barclay, one of a number of Scottish officers who had served in Sweden under Gustavus Adolphus. He acquired the Urie estate in 1647 and Robert his eldest son became a celebrated Quaker and was appointed Govenor of East Jersey in 1682.

There was several other important branches of the Barclay family including Collairnie in Fife, Pierston in Argyllshire and Tolly in Aberdeenshire. The Tolly branch obtained the estate about 1100 and it remained in the family until its sale by the Honorable Charles Maitland Barclay of Tillycoultry, who married the last heiress Isabel Barclay in 1752. It was from this family that the famous Russian general, Field Marshal Prince Barclay de Tolly was descended. He was Minister of War during the Napoleonic invasion which was defeated in 1812. He died shortly after in 1818. The present-day chief is descended from the Towie-Barclays.
---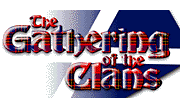 ---
Copyright &copy DISCscribe Ltd. 1997 - All rights reserved.