The Clan Cameron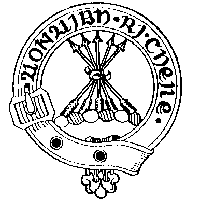 Arms: Gules, three bars Or
Badges: Cameron of Lochiel, Cameron of Erracht
Branches: Lochiel, Erracht
Tartans: Cameron, Cameron Hunting, Cameron of Lochiel, Cameron of Lochiel Hunting, Cameron of Erracht.
Mottos: Aonaibh ri cheile (Gaelic: Unite), Mo righ's mo dhuchaich (Gaelic: For King and Country).
Slogan: Chlanna nan con thigibh a so's gheib sibh feail (Gaelic: Sons of the hounds come here and get flesh)
Septs: Chalmers, Chambers, Clark, Clarke, Clarkson, Cleary, Clerk, Dowie, Gibbon, Gilbertson, Kennedy, Leary, Lonie, MacAldowie, MacAlonie, MacChlery, MacLair, MacCleary, MacGillery, MacGillonie, MacIldowie, MacKail, MacKell, MacLear, MacLeary, MacLerie, MacMartin, MacOnie, MacOstrich, MacPhail, MacSorley, MacUrlig, MacVail, MacWalrick, Martin, Paul, Sorley, Sorlie, Taylor.
There are several theories concerning the origin of the name Cameron. The most probable is that the first chief, Donald Dubh was descended from the Macgillonies or from the medieval Cameron family of Fife. Donald Dubh married the MacMartin heiress of Letterfinlay and through great skill united the confederation of tribes that came to be know as Clan Cameron. Donald was born circa 1400 and he and his successors took on the title of Captains of Clan Cameron until the early sixteenth century when Ewan MacAllan had his lands of Lochiel united by charter into the Barony of Lochiel. Ewan's father, Alan MacDonald Dubh, the twelfth chief of the Clan Cameron was one of the bravest men of his time. It was under him that the long running feud between Clan Cameron and the Clan MacKintosh began.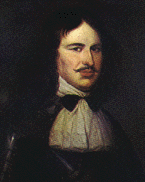 The next prominent chief was Sir Ewen Cameron of Lochiel who was born in 1629 and died in 1719. Sir Ewen was an ardent enemy of the Parliamentarians and fought many great battles to preserve the independence of Clan Cameron.
He was knighted in 1682 and fought with Bonnie Dundee at Killiecrankie in 1689. Sir Ewan was beloved by his Clan and his grandson, known as the "gentle Lochiel" tried to improve the lives of clansmen.
In August of 1745, the Camerons fought along side Bonnie Prince Charlie as staunch supporters of the Jacobite cause. After that fateful year the Cameron lands were forfeit, their cattle were shot and their houses burned to the ground. In 1784 the estate was returned to the grandson of the "gentle Lochiel", Donald, subject to a large fine.
In 1793, Major Allan Cameron of Erracht raised the Camerons' own regiment, the 79th Highlanders, which became the Queen's Own Cameron Highlanders in 1873 and then merged with the Seaforths in 1961 it became the Queen's Own Highlanders.
There is a Clan Cameron museum at Achnacarry and much information pertaining to the Clan may be found in the West Highland Museum in Fort William.
---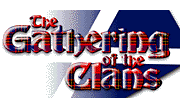 ---
Copyright &copy DISCscribe Ltd. 1997 - All rights reserved.