The Clan Chisholm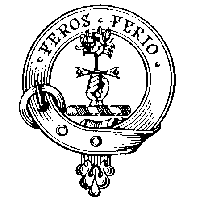 Motto: Feros ferio - "I am fierce with the fierce"
Badge: Male fern (aspidium felix mas)
Crest: A dexter hand couped at the wrist holding a dagger erect Proper, the point thereof transfixing a boar's head erased Or, langued Azure.
Tartan: Chisholm
Gaelic Name: Siosal
Plant Badge: Fern
Pipe Music: The Chisholm's Salute (Failte an t'Siosalaich), Chisholm "Castle" March (Spaidsearachd Siosalach Strathglais), Lament for William Chisholm (Cumha do dh'Uillean Siosal)
It is said that the first Chisholm came from Normandy with William the Conqueror in 1066. But the first Chisholm to appear in the records of Scotland was Alexander de Chesholme, who witnessed a charter in 1248/1249. The head of the Chisholm clan is called The Chisholm.The early Scottish Chisholms were to be found in Roxburghshire, near the English border.

The family moved north from the Borders, and by 1359 Sir Robert de Chisholme was Constable of Urquhart Castle on Loch Ness. His grandson Thomas became the first Chisholm chief of the Clan, which had the lands of Strathglass and Glen Cannich for the next four centuries. It is said that eighty Chisholms fought at Culloden in 1746. Emigration and evictions began soon after.

In 1887, Roderick, the Chief, died without a male heir. The chiefship and the estates were separated and passed through two separate female lines. The estates and 17th century Erchless Castle were eventually sold in 1937.

A line of Border Chisholms survived as Scott Chisholmes, who held the property of Stirches until 1899, when Colonel John James Scott Chisholme of Stirches was killed in a charge at Elandslaagte in South Africa.

A Clan Chisholm Society was revived from 1951, an idea favoured by the late Alastair Chisholm of Chisholm, The Chisholm, great-great-grandson of Mary Gooden-Chisholm who had succeeded in delaying evictions.



Thanks to Marc Baronnet for providing information for this page.


---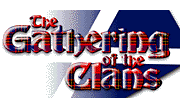 ---
Copyright &copy DISCscribe Ltd. 1997 - All rights reserved.