The Clan Fletcher of Dunans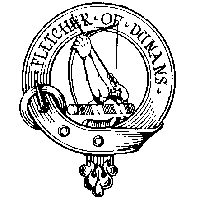 Badge: Two naked arms proper, shooting an arrow out of a bow sable
Tartan: Fletcher of Dunans
Gaelic Name: Mac an Fhleisteir
Plant Badge: pine tree
The name originated with the making of arrows and is consequently found all over Scotland. The Fletchers followed the clan for whom they made arrows. In Argyle we find them associated with the Stewarts and the Campbells, and with the MacGregors in Perthshire. In Gaelic the name is found in several forms including Mac-an-Leistear, and Mac-Leister.

For recovering cattle stolen by the MacDonalds in 1497 Stewart of Appin agreed to help the Fletchers when they required assistance. About a century later the Fletchers and the Campbells of Glenorchy entered into a bond. The Fletchers claim to have been the original inhabitants in Glenorchy, and a local saying runs, "It was the clan Fletcher that raised the first smoke to boil water in Orchy." They possessed Achallader for many generations.

The Fletchers of Glenlyon followed the MacGregors for whom they were arrowmakers, and it is on record that a Fletcher saved Rob Roy's life when he was disabled by a dragoon during one of Rob's may conflicts. The Fletchers were out in the '45.

The Fletchers of Dunans were an important family during the 18th and 19th centuries. The Fletchers of Innerpeffer, in Angus, purchased in 1643 the estate of Saltoun in Haddington. To this family of Saltoun belonged Andrew Fletcher (1653-1716) the celebrated Scottish patriot. He entered the Scots Parliament in 1681, but was later outlawed. At the time of the Revolution he returned to Scotland. He was a powerful advocate of the rights and liberties of the people and several of his limitations of the royal prerogatives were included in the "Act of Security." He was a strenuous opponent of the Union of 1707.
---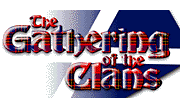 ---
Copyright &copy DISCscribe Ltd. 1997 - All rights reserved.