Clan Gow/MacGowan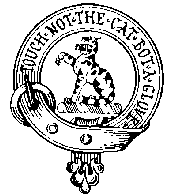 Motto: Touch not the cat bot a glove-"Touch not the cat without a glove"
Badge: A cat sejant, proper (same as the MacPherson crest badge)
Tartan: Gow
Gaelic Name: Mac a'Ghobhainn
Origin of Name: Occupational; from Gaelic gobha (a smith) Gow is Gaelic gobhan, smith or blacksmith. In those days every clan would have needed to make weapons and shoes for its horses. Several ancient families are recorded, notably in Stirlingshire and Dumfriesshire, but the main one appears to have been closely associated with the Clan Macpherson.

Neil Gow (1727-1807) and his son Nathaniel (1766-1831), both born in Inver, near Dunkeld, Perthshire, were pre-eminent among composers and players of fiddle music. It is not inconceiavable that Neil, or his father (who was a plaid weaver), designed the trews he is wearing in four protraits by Sir Henry Raeburn (1756-1823), the pattern of which has become the sett of the Gow tartan.
---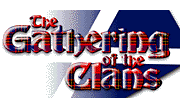 ---
Copyright &copy DISCscribe Ltd. 1997 - All rights reserved.