The Clan Graham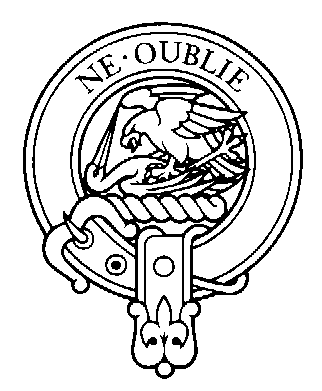 Branches: Montrose, Mentieth
Arms: A gold shield with three gold escallops on a black chief.
Badge: A red falcon killing a white stork.
Motto: Ne Oublie (Never Forget)
Septs: Airth, Allardyce, Auchinloick, Ballewen, Blair, Bonar, Bonnar, Bonner, Bontein, Bontine, Buchlyrie, Buntain, Bunting, Buntyn, Conyers, Drumaguhassle, Duchray, Dugalston, Esbank, Glenny, Graeme, Grahame, Grim, Grimes, Hadden, Haldane, Kilpatrich, Lingo, MacGibbon, MacGilvern, MacGilvernock, MacIlvern, MacShille, Menteith, Monteith, Monzie, Orchille, Pitcairn, Pyatt, Pye, Pyott, Rednock, Sirowan, Sterling.
The early history of the Grahams in Scotland is not easily understood. One theory is that there were similar names from the Celtic "Greamach" (grim) or the Saxon "Gram" (fierce). There is a tradition in Scotland that the daughter of a Gryme married a King of the Scots, Fergus II. The Celts and Saxons disappeared or were swallowed up by the descendants of "Lez Grames" of Norman origin. Some say that the original Grahams in Scotland were Picts, established long before the Normans came into Scotland.

Solid information has established the Norman descent of the Grahams. The Normans were originally of Viking descent and a Graham lineage goes back into Scandinavia.

Listed in the Doomsday Book of William the Conqueror is a place that was known as "Graeg Ham" in the 10th Century in England, now known as Grantham.

The Normans were in Scotland in the 12 century. William De Graeme personally witnessed the signing of the charter founding the Abbey of Holyrood in 1128. From this line descended the Montrose line of Grahams, one of the most distinguished families of Scotland.

Twice the Montrose Grahams married into the royal family. From these came some notable men. First among them was Sir John Graham, right hand man to the Great Wallace, killed in the battle of Falkirk in 1298. Second was the Marquess of Montrose , James Graham, poet, but above all, the most distinguished soldier of his time. He was martyred in Edinburgh in 1650. Third was John Graham, Viscount of Claverhouse, "Bonnie Dundee", commander of the Scots who last defeated the English at the Battle of Killiecrankie. In John Stewart's book, The Grahams, he states that "Most Scottish Clans would be proud to have one great hero. The Grahams have three." There were, of course, many more besides these three towering figures.

Stewart also wrote,
"It is remarkable that the early Grahams were one and all exceedingly capable men. In an age when the reputation of many great public figures, alas, that of most of the Scottish nobility, were sullied by deeds of violence, and often deeds of blackest treachery, it is refreshing to find that the Grahams stand out as loyal and true to the causes they espoused. Their story is not one of rapid rise to power through royal favor, or even at the expense of their peers, but rather a gradual steady rise based on their undoubted ability and worthiness which seems to have endured from one generation to another."
---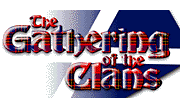 ---
Copyright &copy DISCscribe Ltd. 1997 - All rights reserved.