Clan MacDonell of Glengarry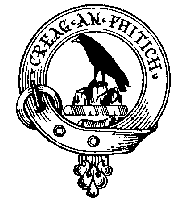 Motto: War cry - The raven's rock
Badge: A raven, proper, perched on a rock, azure
Tartan: MacDonell of Glengarry
Gaelic Name: MacDhòmhnuill
Plant Badge: Heath
Origin of Name: Gaelic Domhnull (world ruler)
Pipe Music: Glengarry's March
Septs: Alastair, Alexander, Allister, Cowan, MacCowan, MacDonell, MacOwan, Sander, Sanders, Sanderson, Saunders
Ranald, who was the younger son of the 1st Lord of the Isles, was the progenitor of Clanranald. Descended from him are the families of Moidart, morar, Knoidart, and Glengarry. The MacDonells of Glengarry trace their descent from Ranalds son Donald.

Donald and his brothers were disposessed of their lands by their uncle Godfrey. When Godfrey's son was executed in 1427, the lands of Glengarry reverted to the Crown which made the Glengarrys Crown tenants.

In the Rising of 1745, 600 of the Glengarry MacDonells joined Prince Charles under the chief's second son Angus. Glengarry and his son were kept prisioner in the Tower of London. The 16th chief sold the estates except for the ruined castle, then emigrated to New Zealand.
---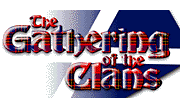 ---
Copyright &copy DISCscribe Ltd. 1997 - All rights reserved.