Clan MacDonell of Keppoch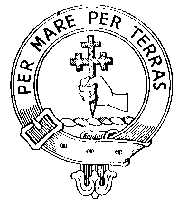 Motto: Per mare per terras - "By sea and land"
Badge: A dexter hand holding a cross crosslet, fitche sable.
Tartan: MacDonell of Keppoch
Gaelic Name: MacDhòmhnuill
Plant Badge: Heath
Origin of Name: Gaelic Domhnull (world ruler)
War Cry: Dia's Naomh Aindrea (God and St. Andrew)
Pipe Music: Latha na Maoile Ruadh (The Battle of Mulroy)
Septs: MacDonell, MacGillivantic, MacGilp, MacGlasrich, MacKillop, MacMichie, MacPhilip, MacRonald, Mechie, Meekison, Mekie, Michael, Michie, Michieson, Philip, Philipson, Phillip, Phillips, Philp, Rainnie, Rennie, Ronald, Ronaldson
The MacDonells of Keppoch and Garragach were also known as the Clan Ranald of Lochaber, and descend from Alastair Carrach, third son of John, first Lord of the Isles. He acquired his lands through the marriage settlement of John and his second father-in-law, Robert II when his estates were agreed to be apportioned between the children of both his marriages. Alastair fought alongside Donald of the Isles at the Battle of Harlaw in 1411, supporting his claim to the Earldom of Ross. For his part in 1413 in the insurrection led by Donald Balloch on behalf of the 3rd Lord of the Isles, he was forfeited and some of his lands in Lochaber were bestowed upon Duncan Mackintosh consequently leading to a long feud between the two clans.

In 1493 on the final forfeitude of the Lord of the Isles the MacDonalds maintained their position in Lochaber. Donald, 3rd chief was killed in battle with Dougal Stewart, 1st of Appin. John, 4th of Keppoch was deposed by the clan for delivering up one of the clansmen to the Mackintosh chief of Clan Chattan. His cousin, Donald Glas was elected chief and his son Ranald, chief after him was beheaded at Elgin in 1547 by the Earl of Huntly for his part in the rebellions at that time. His descendant, Ranald, 9th also spent most of his life as an outlaw. Alastair, 12th chief was murdered in 1663 and is commemorated at Tobair-nan-ceann, the "Well of the Heads" near Invergarry where the heads of the seven murderers were washed before being placed before Lord MacDonnell of Invergarry. A statue was later placed at the spot by Col Alastair MacDonnell of Glengarry in the 19th century.

Coll, 15th held off the government and the Mackintoshes for over 40 years by sword in Lochaber and his son Alexander, 16th, despite at being old by 1745 was one of the first to join Prince Charles. He died Culloden but the last chief of the MacDonnells of Keppoch in the direct line did not die till 1889.
---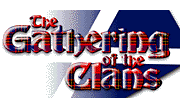 ---
Copyright &copy DISCscribe Ltd. 1997 - All rights reserved.