The Clan MacLean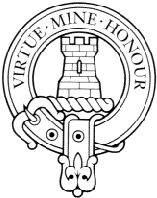 Branches: Duart, Tiree, Coll, Islay
Arms: Quaterly, 1st, Argent, a rock Gules; 2nd, Argent, a dexter hand fesswise couped Gules holding a cross crosslet fitchée in pale Azure; 3rd, Or, a lymphad, oars in saltire, sails furled Sable, flagged Gules; 4th, Argent, a salmon naiant Proper, in chief two eagles' heads erased respectant Gules.
Badge: A tower embattled, Argent
Motto: Virtue Mine Honour
Gaelic Name: MacGhille Eoin
Tartans: MacLean of Duart; MacLean, hunting
Septs: Beath, Beaton, Bey, Black, Gillan, Gilland, Gillian, Gillon, Gilzean, Huie, Lean, MacBay, MacBeath, MacBeth, MacBey, MacBheath, MacClane, MacClean, MacCormick, MacFadyen, MacFadzean, MacFayden, MacFetridge, MacGillivray, MacGillivra, MacIldowie, MacIlduff, Macilduy, MacIlvora, MacLaine, MacLergan, MacPhadden, MacRankin, MacVay, MacVeagh, MacVey, Padon, Paton, Patten, Patton, Peden, Ranken, Rankine.
The clan MacLean's extensive lands included the islands of Mull, Tiree, Coll and Islay, as well as mainland Morvern and Lochaber.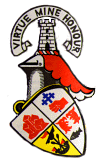 As the clan expanded, it split into a number of different branches, including the MacLeans of Coll and the MacLeans of Ardgour.
Tradition gives the Clan Gillean as coming from the neighbourhood of Scone. The most senior of these, were the Maclaines of of Lochbuie on Mull, descended from Hector, the brother of Lachlan of Duart (despite the variation in spelling) and often disputed their right to the chiefship with the MacLeans of Duart, arguing that Hector was the elder brother.
However, Lachlan of Duart had not been given the nickname of "the wily one" for nothing, and his successors proved that they, too, knew their way around the political scene.
Lachlan's son, Hector, managed to wangle a safe passage through England from Henry IV so that he could visit the imprisoned Scottish King James I.
Another Lachlan chief was a special agent for Queen Elizabeth I of England in the 16th century and tried to bargain with her, threatening to use Highland mercenaries to help the Irish rebels. He was killed in 1598 and his sons massacred the people of Islay in revenge. The MacLeans eventually divided into four branch Clans which are:
MacLeans of Duart
MacLeans of Ardgour
MacLeans of Coll
The MacLaines of Lochbuie and the MacLeans of Duart, seven hundred men all told, joined the Marquis of Montrose in time for the Battle of Kilsyth in 1645.
The chief of the MacLeans of Coll emigrated to South Africa in 1848, leaving the Georgian house where he had entertained Dr. Johnson and James Boswell on their Highland tour to become derelict.
Sir Fitzroy MacLean, one of the founding members of the SAS in Great Britain, as well also a politician, writer and epic traveller, his exploits that included parachuting into Nazi-occupied Yugoslavia as British Prime Minister Winston Churchill's personal envoy. A friend of Ian Fleming, author of the James Bond series, Sir Fitzroy MacLean refused to comment on persistent rumors that he was the model for agent 007.
Today the son of the 27th clan chief, Lord MacLean, a life peer, Lord Chamberlain to Her Majesty's Household, and, from 1959 to 1975, Chief Scout of the Commonwealth, lives in Duart Castle, though only because his grandfather, Sir Fitzroy MacLean, who lived to be 101 years old, bought back and restored the ancient ruins in 1912. Lord MacLean died a few years ago, the Chief now is his son Lachlan - Sir Lachlan MacLean of Duart and Morven Bt, 28th Chief of Clan Gillean.
Duart Castle is the seat of the Chiefs.
---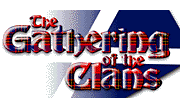 ---
Copyright &copy DISCscribe Ltd. 1997 - All rights reserved.