The Clan MacLellan
Arms:: MacLellan, Lord Kirkcudbright
Badge: A naked arm supporting on the point of a sword a mor's head Proper.
Branches: Airth, Clackmannan, Kennet, Kinnaird.
Motto: Think on; Superba frango (Latin: I break down proud things)
Patrick, son of Gilbert M'Lolane, was one of the band of landed gentry who took Dumfries Castle from the supporters of King Robert I (the Bruce) in 1306 after the murder of John Comyn. The family was prominent in Galloway, and a William MacLellan of Bombie is recorded in 1467.

Sir Robert MacLellan of Bombie (d. 1639), who had been knighted at an early age, was Provost of Kirkcudbright in 1607, whereupon he embarked on a career of riotous(and violent) living and profligacy, though in 1633 he was made Lord Kirkcudbright, possibly for being useful to the Government while tending his estates in Ireland. After his death the title passed through the MacLellans of Glenshinnoch, Auchlane, and Balmangan to William MacLellan of Borness, 6th Lord, who was an Edinburgh glover and died in about 1765.

The title became dormant in 1832.
---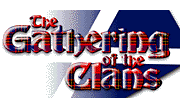 ---
Copyright &copy DISCscribe Ltd. 1997 - All rights reserved.