The Clan MacNeil

Badge: A rock
Motto: Buaidh no bas (To conquer or die)
Branches: Barra, Gigha, Colonsay
Plant Badge: Plants of Dryas
Gaelic Name: MacN&egraveill
Septs: MacGougan, MacGrail, MacGugan, MacGuigan, MacNeal, MacNeale, MacNeilage, MacNeill, MacNelly, MacNiel, Neal, Neale, Neil, Neill, Neilson, Nelson, Niel, Nielson.
Clan MacNeil claim descent from Niall, a descendant of Aodh O'Neil, twentieth in descent from Niall of the Nine Hostages the famous founder of the U'Neill dynasty of High Kings of Ireland. Niall established himself on Barra in 1049 and is considered the first chief of the Clan MacNeil.

The fifth chief, Neil MacNeil, was described as a Prince at a Council of the Isles in 1252 and aided in defeating the Norse at the battle of Largs in 1263. His son, the sixth chief, Neil Og MacNeil fought with Robert the Bruce at Bannockburn and was rewarded with lands in Kintyre.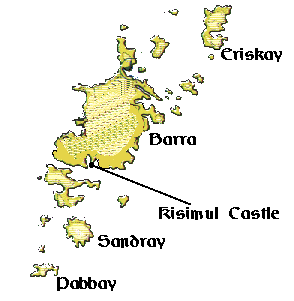 Another branch of the MacNeils established themselves on the island of Gigha under Torquil MacNeil in 1427. After 1493 the two branches of MacNeils took opposite sides in the long running feud between the MacDonalds of Islay and the MacLeans of Duart, Barra MacNeils sided with the MacLeans while the Gigha MacNeils fought on the side of the Clan Donald.
The MacNeils were famous for their sailors and quite often for their lawlessness on the high seas. The fifteenth chief of Barra, Ruari MacNeil, was known as a "hereditary outlaw" and was dubbed "Ruari the turbulent". He has also been described as the last of the vikings, raiding ships of all sorts from his island fortress of Kisimul Castle. Ruari eventually had a writ issued against him by the King, was captured by his own nephews and taken in chains to Edinburgh in 1610. His son, Neil Og then became chief.
Neil Og's grandson, Roderick Dhu (the Black), led his fellow clansman at Killiecrankie fighting staunchly for the Jacobite cause. He rallied the Clan MacNeil once more to the aid of the "Old Pretender" in the Rising of 1715.
The 21st chief, General Roderick MacNeil was in economic ruin and had to sell the Island of Barra in 1838. Roderick had no children of his own and the chiefship then passed to a cousin whose line had emigrated to the New World.
In 1937 Kisimul castle and most of the Island of Barra were brought back into the family when Robert L. MacNeill, a descendant of the 22nd chief, returned from the United States, purchased most of Barra and spent his life restoring Kisimul Castle. His son, the 46th chief, is a law Professor and divides his time between Scotland and the United States.
There is a Highland saying that in the long geneaology of the MacNeils, the biblical Noah is not to be found. "The MacNeil had a boat of his own" it is said.
---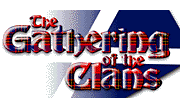 ---
Copyright &copy DISCscribe Ltd. 1997 - All rights reserved.