The Clan Maxwell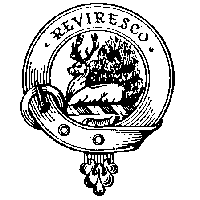 Arms: Argent, a saltire Sable, (as displayed on the arms of the Earl of Nithsdale) viz:- Argent, an eagle displayed Sable, beaked and membered Gules, (Nithsdale), surmounted of an escutcheon of the first, charged with saltire of the Sceond (Maxwell), the escutcheon surcharged in the center with an urcheon, Or (Herries).
Badge: A stag Proper, attired Argent, couchant before a holly bush Proper.
Motto: Reviresco (I flourish again)
Tartans: Maxwell
Septs: Adair, Blackstock, Dinwiddie, Dinwoodie, Edgar, Herries, Kirk, Kirkland, Latimer, Latimore, Mackittrick, Maxton, Mescall, Monreith, Moss, Nithdale, Paulk, Peacock, Pollock, Pollok, Polk, Sturgeon, Wardlaw
Maccus Well, a pool in the River Tweed by Kelso, is claimed as the origin for this name. Maccus was believed to be a Norse chief who lived in the reign of David I. Sir John Maxwell, Chamberlain of Scotland, died without issue and was succeeded by his brother, Aymer, from whose sons sprang many branches of this family throughout the southwest of Scotland.

Sir Herbert Maxwell swore fealty to Edward I of England in the ragman Roll of 1296. His son, Eustace, held Caerlaverock Castle as a vassal of the English, but later followed Robert the Bruce to Bannockburn in 1314. His descendent, another Sir Herbert, was created Lord Maxwell around 1440, taking his seat as Lord of Parliament. From his second son descended the Maxwells of Monrieth, who were later to be created baronets in 1681. The fifth Lord intrigued with Henry VII of England, although by 1542 James V had appointed him warden of the marches. Maxwell was captured at the Battle of Solway Moss in the same year.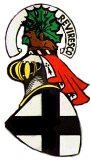 John, the seventh Lord, remained a devout Catholic throughout the Reformation, and his name was linked with a number of plots to restore Mary, Queen of Scots to her throne. After Mary's execution in England in 1687 and the defeat of the Spanish Armada the following year, Lord Maxwell continued to correspond with Philip of Spain, seeking support for a Catholic revolution. Maxwell was killed in 1593 during a feud between his family and the Johnstons, near Lockerbie. The feud continued, however, and the next Lord Maxwell shot Sir James Johnston, who was attempting to reconcile the two warring factions.
His brother, Robert, succeeded to the Maxwell title and additionally was created Earl of Nithsdale. His descendent, the fifth Earl of Nithsdale, was a staunch Jacobite who was captured at the Battle of Preston during the ill-fated rising of 1715. He was taken to London, tried and sentenced to death for treason. On the eve of his execution, with the assistance of his wife, he escaped from the Tower of London, disguised as a serving woman. The couple fled to Rome where the Earl died in 1744.
A number of the cadet branches rose to prominence in their own right, including the Maxwells of Cardoness, Monreith, Sprinkel and Pollok, each achieving the rank of baronet. Pollok House, the seat of the Maxwell Baronets of Pollok, was gifted to the city of Glasgow in 1967; in its grounds is the world-famous Burrell Collection of art.
James Clerk Maxwell, born in Edinburgh in 1831, was a physicist who made a fundamental contribution to this branch of science through his formulation of electromagnetic theory. Gavin Maxwell, the Scottish author and naturalist who died in 1969, was the youngest son of Sir Herbert Maxwell who descended from the Maxwells of Monreith.
Copyright © 1997 - 1998 DISCscribe Ltd. - All rights reserved.