The Clan Moffat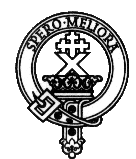 Arms: Sable, a sltire and chief Argent
Badge: A crest coronet and issuing therfrom a cross crosslet fitch&eacutee of a sltire Argent
Motto: Spero meliora (I hope for better things)
Tartans: Moffat.
Clan Moffat originated perhaps a thousand years ago in the hills of Upper Annandale near the border with England. It grew to be a powerful and respected family. In the 16th century, amidst the turbulent days of skirmishes between Scotland, England and inter-clan feuds, the Chief of Clan Moffat died. Enemies of the Clan pressed on.

The Moffat Clan was under siege making it impossible to choose a successor. "Clan" is the Scottish Gaelic word for *"Family". In the ancient traditions of Scotland, a clan without a chief is a "heidless" or headless clan. Without a chief, the clan ceases to exist. This was the plight of Clan Moffat for approximately 420 years. The family members - all kinsmen - (many to avoid religious persecution), scattered throughout the world at the ascension to the Scottish, English, and Irish thrones of Charles I in 1625.

A young Scottish Army officer's research would change the heidless state of the Clan Moffat. When World War II ended, Major Francis Moffat returned to his family farm at Moffat, Dumfriesshire, Scotland. He remembered the stories he had heard since childhood, that his family was directly descended from the last Chief of Clan Moffat. Thus began his search through dim and fragile volumes that recorded Scotland's history. While rising to prominence as a farmer and political leader, Francis Moffat's Family research continued.

After 35 years of research and documentation the Court of the Lord Lyon recognized Francis Moffat of Scotland as the rightful heir. On July 20,1983, Major Francis Moffat was proclaimed "Chief of the Name and Arms of the Family of Moffat". He then assumed the title of "The Moffat of That Ilk".

Among the first official actions taken by the newly recognized Clan Chief was to appoint an official to represent the Moffat kinsmen of North America. When the Chief passed away in 1992 his daughter, Mrs. Jean Gates, became Madame Jean Moffat of That Ilk (Chief). She then appointed the current Commander in North America, Dr. E. Albert Moffett. The continuing goal of the Moffat Clan Society of North America is to bring together all branches of the family who emigrated to the New World.

In 1993 more than 200 Clan men and women from seven countries gathered in the town of Moffat Scotland, for their annual meeting. The town of Moffat graciously accepted this Moffat enclave with open arms.

Submitted by: Stephen R. Moffett, Tulsa, OK
---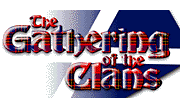 ---
Copyright &copy DISCscribe Ltd. 1997 - All rights reserved.