The Clan Murray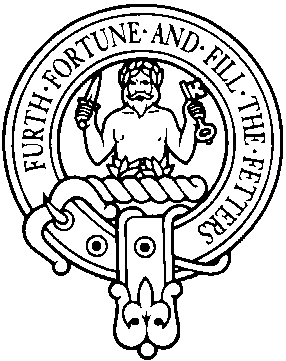 Plant Badges: Gaig-bhealaidh (Butchers Broom) and Aitionn (Juniper)

Patron Saint: Saint Laisren (McLaise)

Tartans: Murray of Atholl (green tartan) and Murray of Tullibardine (red tartan).
Clan Septs: Balneaves, Dinsmore, Dunsmore, Fleming, Moray, Murrie, Neaves, Piper, Pyper, Smail, Smale, Small, Smeal, and Spalding
The Murrays trace their heritage back to the twelfth century and take their name from the great province of Moray, once a local kingdom. It was during this time that the Flemish lords crossed the North Sea and established themselves in the Scottish realm. Among them was Freskin, son of Ollec. Either Freskin or his son William intermarried with the ancient royal house of Moray. The senior line of the Murrays took the surname of Sutherland and became Earls of Sutherland by 1235.

Thereafter the chiefs of the Murrays were the Lords of Petty in Moray who also became Lords of Bothwell in Clydesdale before 1253. An heir of this line, Sir Andrew Murray was the brilliant young general who led the Scots in 1297 in their first uprising against the English conquerors. He was mortally wounded while winning his famous victory at Stirling Bridge. His son, Sir Andrew Murray, 4th Lord of Bothwell, third Regent of Scotland married Christian Bruce, a sister of King Robert the Bruce. He was captured at Roxburgh early in 1333 and was a prisoner in England at the time of the battle of Halidon Hill. He obtained his freedom in time to march to the relief of his wife, who was bravely defending Kildrummy Castle. Sir Andrew commenced with unabated spirit to struggle in the cause of independence and died in 1338. The last Murray Lord of Bothwell died in 1360 of the plague.

The chiefship of the Murrays fell into doubt amongst the various scattered branches of the name--from Sutherland and Murray itself, through Perthshire and Stirlingshire to Annandale and the Borders. By the sixteenth century, the Murrays of Tullibardine in Strathearn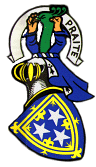 had assumed the leadership of the Murrays. This was formally confirmed by Bands of Association in 1586 and 1589. Lairds from all over Scotland recognized the supremacy of the line of Sir John Murray.
Sir John became the 1st Earl of Tullibardine in 1606. Thus, the Tullibardine hegemony was firmly established among the Murrays; and the late George Iain Murray, 10th Duke of Atholl was also Marquis of Tullibardine as recognized in Lyon Register as Chief of the Murrays. The 2nd Earl of Tullibardine married Lady Dorothea Stewart, heiress of the Earls of Atholl in 1629 and Marquises from 1676. To their medieval peacock's head crest (motto-Praite), they added the mermaid (motto-Tout Pret), as Lords of Balquidder; and in the seventeenth century, they took the demi-savage holding a sword and a key commemorating the capture of the last Lord of the Isles by the 1st Stewart Earl of Atholl in 1475: hence the motto Furth, Fortune, and Fill the Fetters. (Go forth against your enemies, have good fortune, and return with hostages and booty).
Since 1703, the Murray's chiefs have been Dukes of Atholl. For a time in the eighteenth century, the Murray dukes were also Sovereign Lords of the Isle of Man, with their own coinage and parliament, The House of Keys. The 1st Duke's younger son Lord George Murray, was the brilliant Jacobite general responsible for the highlander's astonishing successes throughout the greater part of the 1745 uprising.
Lord George's descendent George Iain Murray, the 10th Duke of Atholl, passed away in February of 1996. The new Duke of Atholl is John Murray of South Africa. The chiefship of the Murrays has not yet been officially announced.
---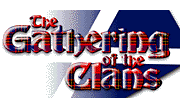 ---
Copyright &copy DISCscribe Ltd. 1997 - All rights reserved.