The Clan Napier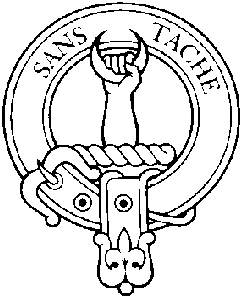 Branches: Napier of Merchiston
Arms: Quarterly, ist & 4th, Argent, a saltire engrailed cantoned of four roses Gules, barbed Vert (Napier); 2nd & 3rd, Or, on a bend Azure, a mullet pierced between two crescents of the Field, within a double tressure flory counterflory of the Second
Badge: A dexter arm erect couped below the elbow Proper, grasping a crescent Argent
Motto: Sans tache (Wihtout stain)
Tartans: Napier,
Family traditon attributes the name to a commendation given a young knight of Willam the Lion. After showing particular valour and bravery William the Lion is said to praised him sayiong his valour had "nae peer".

The Napiers held lands at Kilmahew for 18 generations until the lands were sold in 1820. Alexander Napier was the prosperous merchant of his time and was Provost of Edinburgh. With his great wealth he acquired the lands of Merchiston in 1436. In 1440, King James II made Alexander's son Comptroller of the Royal Household in thanks for his part in rescuing his mother from rebels.

This Napier's son and grandson were both killed at the Battle of Flodden in 1513 and another Napier heir was killed at the Battle of Pinkie Cleugh in 1547.

Perhaps the best known Napier was the 7th Laird of Merchiston, John Napier who developed the system of logarithms. His son, Archibald, accompanied James IV to London when he claimed the throne of England. He was to become a member of the Privy Council as well as Lord Justice Clerk of Scotland, Baronet of Nova Scotia in 1627 and finally made Baron Napier of Merchiston later in 1627.

Three grandsons of the 6th Lord Napier served in the Napoleanic Wars as Generals. Sir Charles Napier captured Sind in India (now Pakistan) and a staue of him still stands in Trafalgar Square. Francis Napier, 10th Lord Napier, was a distinguished scholar and diplomat. He was created Baron Ettrick of Ettrick in 1872.

The present chief, 14th Lord Napier and 5th of Ettrick, is Comptroller to the Household and Private Secretary to Her Royal Highness, The Princess Margaret.
---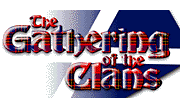 ---
Copyright &copy DISCscribe Ltd. 1997 - All rights reserved.