The Clan Ogilvie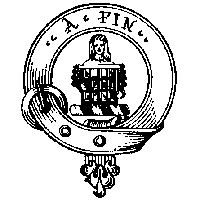 Motto: A Fin - To the End
Badge: A woman naked from the waist up draped azure pinned or holding a portcullis gules.
Tartan: Ogilvie
Plant Badge: Evergreen, Alkanet, Whitethorn, Sgitheach geal (Hawthorn)
Gaelic Name: Mac Ghille Bhuidhe
Septs: Airlie, Ogilvy, Findlater, Gilchrist, Richardson, Storey
The Ogilvies are one of the most distinguished families in Scotland and take their name from Gillibride, second son of Ghillechriost, Earl of Angus. He bestowed the lands of Ogilvie and Easter Powrie on his younger son Gilbert in 1177 having been granted a Barony of the lands by William the Lion around 1163. Patrick de Ogilvy appears on the Ragman Rolls swearing fealty to Edward I in 1296 but his two sons both supported King Robert the Bruce. Patrick obtained the lands of Kettins in Angus and his descendant Sir Walter, having wed the heiress of the Ramsays of Auchterhouse, obtained her barony.

The Ogilvies were also appointed the first Hereditary Sheriffs of Angus. On the death of his son Alexander, the chiefship passed to his brother, Sir Walter, Lord High Treasurer of Scotland, who married the heiress of Lintrathen and built the tower of Airlie. His grandson Sir James Ogilvy became Lord Ogilvy of Airlie in 1491 and James, 8th Lord Ogilvy was created Earl of Airlie in 1639, and became the recognised chief of all the Ogilvies. The Ogilvies of Airlie adhered loyally to the Stewart cause throughout the troubled times from 1639 to 1745. James, 2nd Earl of Airlie was captured at the Battle of Philiphaugh in 1648 which put an end to Montrose's campaign, he was imprisoned in St Andrew's Castle but escaped the night before his execution disguised in his sister's clothes.

The Ogilvies were also "out" in 1715 and 1745. At Culloden, an Angus Regiment was lead by Lord Ogilvie, son of the 5th Earl of Airlie who had barely reached the age of 20 years. He escaped to France but was pardoned and the Earldom was restored in 1826.

Like other clans the Ogilvies also had their feuds with their neighbouring clans; against the Lindsays and later the Campbells who in 1640 attempted to destroy the "Bonnie House of Airlie". The Ogilvies later had their revenge for this act, by setting fire to Castle Campbell near Dollar. Other cadet branches of the Ogilvies became Earls of Findlater in 1638 and Seafield in 1701. Today the Ogilvie seat is at Cortachy although they still hold Airlie Castle which was rebuilt after the Campbell destruction.
---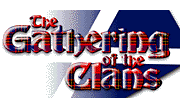 ---
Copyright &copy DISCscribe Ltd. 1997 - All rights reserved.