The Clan Rose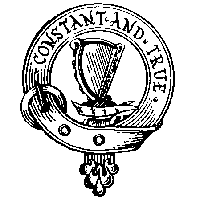 Badge: A harp, azure.

Motto: Constant and True.

Gaelic Name:Ros, Rois.
Tartan: Rose
Origin of Name: From the flower of this name.
Plant Badge: Wild Rose Mary
The Rose family seems to have been strongly connected with the de Boscos and the de Bissets. The name disappeared for a time, then re-appeared in the middle of the thirteenth century around the Moray Firth area.

In 1290, Hugh Rose of Geddes' son Hugh, acquired the lands of Kilravock by marriage to Marie, daughter of Elizabeth de Bisset and Andrew de Bosco. Hugh and Marie made their home at Kilravock which has remained the designation of the chief and the family's home to this day.

When Hugh, the fourth of Kilravock married Janet Chisholm, he also acquired lands at Strathnairn and the addition of her family's boar's head the Rose shield. When the family lost all the family's writs and charters in a fire, John, son of the fifth of Kilravock, had to reconstruct the family's titles to the landholdings and obtain charters from James I, the Earl of Ross and the Chisholm. Around 1460, the seventh Baron built the Tower of Kilravock.

The Roses of Kilravock were diplomatic in their relations and from time to time, Mary, Queen of Scots, stayed at Kilravock. When her son, James VI, visited there, it's said he treated the baron like a father. The Roses suuported the Reformation, and eventhough they had good relations with the royals, the thirteenth Baron opposed the religious policies of Charles I.

They were loyal to the government during the Revolution and the Jocobite Risings of 1715 and 1745. Hugh, the 12 of Kilravock, voted against the Union of 1707, but was one of the commissioiners to reqresent Scotland in the first British parliament.

Kilravock is still the clan seat and the chief's family home.
---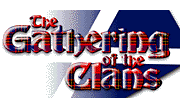 ---
Copyright &copy DISCscribe Ltd. 1997 - All rights reserved.