The Clan Ross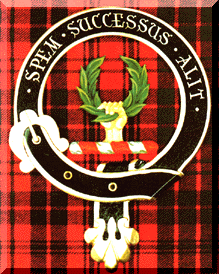 Arms: gules, three lions rampant Argent, armed and langued Azure
Badge: A hand holding a garland of Juniper.
Motto: Spem successus alit (Success nourishes hope)
Tartans: Ross, Ross, hunting, Ross, dress.
Plant Badge: Juniper
Septs: Anderson Andison Andrew/s Corbet/t Crow/e Croy Denoon Denune Dingwall Duthie Fair Gair Gear Gillanders Hagart Haggart MacAndrew MacCullie MacCulloch MacLullich MacTaggart MacTear MacTier MacTire Taggart Tullo Tulloch Tyre Vass Wass
In Gaelic, ros means promontory -- the dominant feature of Easter Ross. From this, the ancient Celtic O'Beolain Earls of Ross and the people take their name. They are known in the Highlands as Clann Gille Aindrias, the children of Andrew.

Sir Farquhar Mac an t-Sagairt (son of the priest), hereditary Abbot of Applecross, was made first Earl of Ross in 1235 by King Alexander II, for military services. William, third Earl, led the men of Ross and Sutherland at Bannockburn in 1314 under Robert the Bruce. He signed the Declaration of Arbroath in 1320, marking independence from England. Hugh, fourth Earl, died leading the Scots army at Halidon Hill in 1333. As punishment for not supporting King David II, the fifth Earl Williams's lands and title passed in 1372 to Sir Walter Leslie and then, through the female line of the Countesses of Ross, to the Lords of the Isle. John, tenth Earl and fourth Lord of the Isles, forfeited the Earldom to the Scottish crown in 1476, after conviction for treason.

Hugh of Rarichies took the surname Ross, after the county, in 1357. Upon the death of his half-brother, the fifth Earl William, in 1372 he became first Chief of Clan Ross and first Laird/Baron of Balnagowan. For over three centuries the Rosses of Balnagowan passed the title from father to son. The twelfth Laird, David, incurred considerable debt raising a regiment of clansmen in support of Charles II. Taken prisoner at the Battle of Worcester in 1651, he died in the Tower of London. The thirteenth Chief and Laird of Balnagowan, David, died childless and in debt in 1711. The estate and titles were purchased by Frances Stewart, then by the Rosses of Hawkbead (an unrelated Lowland family descended from the Norman de Ros) and on to the Lockhart Rosses.

In 1903, Miss Sarah Williamson Ross of Pitcalnie, descended from the Celtic O'Beolain Earls, was recognized by the Lord Lyon as Chief. Her sister, Miss Rosa Ross, succeeded in 1957 until her death in 1968. The Chiefship and arms then transferred to the House of Shandwick, also descended from the Earls of Ross, with David Campbell Ross of Ross as twenty-ninth Chief of the Clan.
---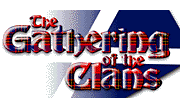 ---
Copyright &copy DISCscribe Ltd. 1997 - All rights reserved.