The Clan Shaw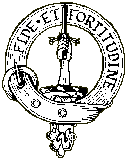 Badge: A dexter arm, the hand holding a dagger in pale proper.

Motto: Fide et fortitudine (By fidelity and fortitude.

Gaelic Name: Mac Ghille-Sheathanaich.
Tartan: Shaw
Origin of Name: Gaelic seaghdha (pithy).
Plant Badge: Red whortleberry.
Clan Shaw was one of the principal clans of Clan Chattan. Shaw "Mor", great-grandson of Angus, 6th Chief of MacKintosh and Eva of Clan Chattan was, by tradition, the leader of Clan Chattan at the battle on North Inch, Perth, in 1396. Rothiemurchus was given to him as a reward but the lands were sold in the 16th century. His son, James, was killed at Harlaw in 1411 but his heir, Alasdair "Ciar" succeded him.

Alasdair's brother, Adam (Ay), of Tordarroch was founder of Clan Ay. Tordarroch acted for Clan Shaw and at Inverness in 1543 and Termit in 1609 signed the Clan Chatten Bands. They supported Montrose and raised the Shaw contingent in the Jacobite rising of 1715.

Alasdiar's second son, Alexander, was ancestor of Shaws of Dell; his third, James, of Shaws of Dalnavert; his fourth, Farquhar, was progenitor of the Clan Farquharson and the fifth, Iver, ancestor of the Shaws of Harris and the ilses.

A new chief of Clan Shaw (21st) matriculated in the 1970 after a vacancy of 400 years; Tordarroch in Strathnairn is stil held.
---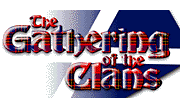 ---
Copyright &copy DISCscribe Ltd. 1997 - All rights reserved.