The Clan Sinclair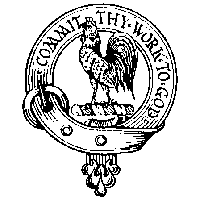 Badge: A cock, proper armed and beaked or.

Motto: Commit Thy Work To God.

Gaelic Name: Mac na Ceardadh.
Tartan:Sinclair
Origin of Name: Place-name, French de Sancto Claro.
Plant Badge: Whin.
Pipe Music: Spaidsearach Mhic nan Cearda (The Sinclair's March).
The name Sinclair is of Norman origin from "St.-Clair-sur-Epte" and was established in Scotland in 1162 when Henry de St Clair of Roslin was granted lands in Lothian. His descendant Sir William became guardian to the heir of Alexander III and gained the Barony of Rosslyn in 1280. His son, Sir Henry fought with Bruce at Bannockburn and was one of the Scottish barons who signed the letter to the Pope asserting Scottish independence. His son, Henry married Isobel, co-heiress of the Earldom of Orkney and Caithness and thus transported the Sinclairs to the far north of Scotland. Their son, Henry Sinclair of Roslin became Earl of Orkney in 1379, obtained from King Haco VI of Norway. In 1455 William, 3rd Sinclair Earl of Orkney was granted the Earldom of Caithness. He also founded the celebrated Rosslyn Chapel in 1446.

In 1470 the Earl of Orkney and Caithness was compelled to resign Orkney to James III in exchange for the Castle of Ravenscraig in Fife. The King was jealous of the semi-royal chief of the Earldom of Orkney which had been inherited by the Sinclairs from the Norse Sea-Kings. The Earls of Caithness were engaged in a long succession of feuds with the Sutherlands, the Gunns and the Murrays, often giving rise to violent deaths. The 2nd Earl, William died at Flodden and the 3rd Earl in a Sinclair Civil War in the Orkneys.

The direct line came to an end with George, 6th Earl who through debt granted the title and estates to Sir John Campbell of Glenorchy. In 1676, after Sir John assumed the title, George Sinclair of Keiss disputed the claim and seized the Caithness estates, only to be defeated in 1680 by the Campbells near Wick. Although the claim was lost by the sword, the Privy Council rendered his claim in 1681 and he became the 7th Earl of Caithness.

At the time of the '45 the northern Sinclairs were ready to join Prince Charles Edward however after Culloden they disbanded quietly. The Earldom has since passed through many Sinclair families and up until 1986 a Sinclair Earl of Caithness owned the long-ruined stronghold, Castle Girnigo, and the Sinclairs of Ulbster still hold vast estates in Caithness. Septs and dependants of the Sinclairs include Caird, Clouston, Clyne, Linklater and Mason.
---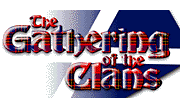 ---
Copyright &copy DISCscribe Ltd. 1997 - All rights reserved.