The Clan Skene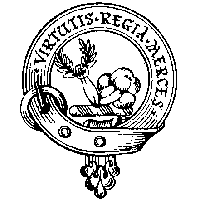 Badge:A dexter arm embowed, issuing from a cloud, hand holding a laurel wreath, all proper.

Motto: Virtutis regia merces (A palace the reward of bravery)

Gaelic Name: MacSgian
Tartan: Skeene
According to tradition the Skenes were an early sept of Clann Donnchaidh long before it adopted the name of Robertson. The progenitor of the Skenes was a younger son of Robertson of Struan who according to legend saved the King, Malcolm Canmore by killing a wolf with his sgian (knife) and was thus granted as much land as could be covered by a hawk's flight which came to be the lands and lakes of Skene in the Forest of Stocket Aberdeenshire.

John de Skene appears on the Ragman Roll in 1296 swearing fealty to Edward I . His grandson Robert de Skene however was a firm supporter of Robert the Bruce, from whom he received a charter in 1318 erecting the lands of Skene into a barony. His grandson, Adam was slain at the Battle of Harlaw in 1411 fighting against the Lord of the Isles. Alexander Skene of Skene, 4th chief fell at Flodden in 1513 and his grandson, Alexander also fell at Pinkie in 1547. James Skene of Skene was a loyal supporter of King Charles I but for his support he had to flee to the continent where he served with Gustavus Adolphus, the "Lion of the North". He died before the Restoration but his sons appear to have adhered to the new government.

The family of Skene of Skene became extinct in 1827 after holding their lands throughout the troubled years of the 17th and 18th centuries. The property was entailed to a nephew, James 4th Earl of Fife, and the chiefship passed to the family of Skene of Hollyands who descended from Andrew of Auchorrie, 2nd son of James Skene, 12th chief of that Ilk who died in 1605. Other cadet branches include the Skenes of Preraw who settled in Austria, Dyce, Cariston, Pitlour and Rubislaw. One notable historian, William Forbes Skene belonged to the Skenes of Rubislaw and was appointed Historiographer Royal for Scotland in 1881.
---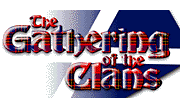 ---
Copyright &copy DISCscribe Ltd. 1997 - All rights reserved.