The Clan Sutherland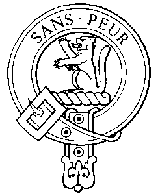 Arms: Gules, three mullets Or, on a bordure Or a Royal tressure Gules
Badge: A cat-a-mountain sejant rampant Proper
Branches: Sutherland of Forse
Tartans: Sutherland,
Motto: Sans peur (French: Without fear)
Septs: Chiene, Cheyne, Clyne, Duffes, Duffus, Federith, Gray, Keith, Mouat, Mowatt, Murray, Oliphant.
Sutherland, that part of the country immediately to the south of Caithness, is Norse Sudrland, or Southland. Here gathered the survivors of the Celtic tribes of the region after the Norse invasions in the eleventh century.

In about 1235 William, a descendant of Freskin, who was ancestor also of the Murrays, was created Earl of Sutherland. The Sutherlands were staunch patriots and doughty fighters, but the original family and the earldom fell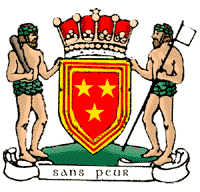 into the hands of the Gordons when in 1514, on the death of the 9th Earl, his sister succeeded to the title and married Adam Gordon, second son of the 2nd Earl of Huntly. John Gordon (1525-67), 11th Earl of Sutherland, and his wife were poisoned at supper by a female cousin in the course of a family feud, though he was able to warn his heir, who had arrived late from hunting, that there was something wrong with the meal.
In 1601 the Gordons obtained a royal ruling that if the sole heir to the earldom was ever female, it should pass instead to the Gordons of Huntly. This was challenged on the death of the 17th Earl, who left an only daughter, Elizabeth, and in 1771 justice prevailed and the House of Lords awarded the earldom to her. Subsequently she married George Granville Leveson-Gower (1758-1833) who, just before his death, was raised to a dukedom, for which he chose the title of Duke of Sutherland.
On the death of the 5th Duke in 1962, the earldom and the chiefship of the Clan were vested in the daughter of the second son of the 4th Duke, who as Countess of Sutherland is the 22nd to hold the title. The Sutherland of Forse, who also had an interest in the legal case in 1771, first held the estate of that name in 1408.
---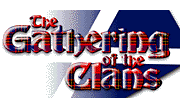 ---
Copyright &copy DISCscribe Ltd. 1997 - All rights reserved.