The Clan Urquhart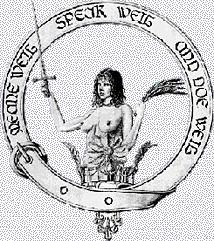 Arms: Or, three boars' heads erased, gules, armed proper and langued azure.
Crest: A naked lady holding a sword in her right hand and a palm sapling in her left.
Badge: A mermaid proper tail-part gules, crined or and holding a harp also or.
Plant Badge: Native Wallflower, Cheiranthus
Tartan: Urquhart red line
Motto: Mean, speak and do well
War Cry: Trust and go forward
Gaelic Name: Urchurdan
Clan Urquhart is of ancient Celtic origin, tracing its descent from Conachar Mor of the Royal House of Ulster who ruled over Glen Urquhart and the territory around Urquhart Castle on Loch Ness during prehistoric times.

Conachar Mor's descendant, William de Urchard, the first Chief of the Clan, was a staunch supporter of King Robert Bruce (1306-1329) during the Scottish War of Independence. His son, Adam, became Baron and Sheriff of Cromarty about 1358; and the Barony of Cromarty was the seat of the Chief of the Clan for over three hundred years. Distinguished for their loyalty to the Royal House of Stewart, much of the history of the Urquharts involves their support of the Royalist and Jacobite Causes.

During the Eighteenth Century, the Chiefship passed from Cromarty to the Meldrum branch of the Family; and in the Twentieth Century, from Meldrum to Urquhart of Braelangwell, who was granted the chiefly title: Urquhart of Urquhart by the Court of the Lord Lyon. The present Head of the Clan is Kenneth Trust Urquhart of Urquhart, The Urquhart, twenty-sixth hereditary Chief of Clan Urquhart. Over the centuries, members of the Clan have emigrated from Scotland, with the result that Urquharts are citizens of many different countries throughout the world. They have achieved success in a wide variety of fields and have contributed to the fame of the ancient Scottish Clan of which they are members.

The Urquharts were mainly associated with old Cromartyshire (which lies on a peninsula called "The Black Isle", between the Cromarty Firth and the Moray Firth); scattered here and there from Invernesss to Aberdeen.
---
Information on this page is courtesy of the Clan Urquhart home page.
---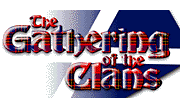 ---
Copyright &copy DISCscribe Ltd. 1997 - All rights reserved.