(1881 - 1955)
In 1945, Sir Alexander Fleming was jointly awarded the Nobel Prize for Physiology or Medicine for the discovery of penicillin and its uses in curing infectious diseases. The son of a Scottish farmer, Fleming was born in Lochfield, Scotland on August 6, 1881.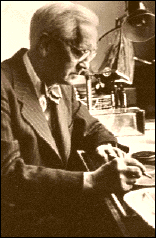 Fleming studied in London under Sir Almroth Wright, a pioneer in vaccine therapy, after graduating with destinction from Medical School. His academic career was interrupted by the first World War, when he served as a captain in the Army Medical Corps.
According to the Nobel Lectures, Fleming's most famous discovery began as an accident: "In 1928, while working on influenza virus, he observed that mould had developed accidentally on a staphylococcus culture plate and that the mould had created a bacteria-free circle around itself. He was inspired to further experiment and he found that a mould culture prevented growth of staphylococci, even when diluted 800 times. He named the active substance penicillin."
Fleming was knighted in 1944, and won the Nobel Prize the following year.
Fleming married an Irish woman, Sarah Marion , in 1915, but she died in 1949. In 1953, he remarried, this time to a Greek woman, Dr. Amalia Koutsouri-Voureka, a Greek colleague at St. Mary's. Fleming's son from his first marriage is a family physician.
Dr Fleming died in March 11th of 1955, at the age of 73. He is buried in St. Paul's Cathedral in London.