As a university student in Edinburgh in the early 1920's, Eric Liddell had to divide his time between his studies and athletic pursuits that included running and rugby. He decided to focus on running.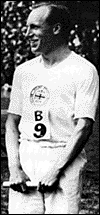 With a unique sprinting style, Liddell won the Scottish Championship 100 and 220-yard sprints from 1921 to 1924, and also dominated those events in the Triangular International Contests (including England and Ireland) three years in a row. Liddell joined the British Olympic Team going to Paris in 1924. His performance there would reveal the Scot's athletic prowess and spiritual integrity to an international audience.
At the Paris Olympics, Liddell dropped out of his best event, the 100-yard dash, because qualifying heats were being run on a Sunday. Liddell entered himself in the 400-yard dash. Instead of participating in the heats, he preached a sermon at a Paris church. The 400-yard run was not what he had trained for, but Liddell finished 5 yards ahead of his nearest competitors, setting a world record at a time of 47.6 seconds. He attributed his win to God.
Eric Henry Liddell was born on the 16th of January, 1902 in Tientsin, North China. His parents were missionary workers in China. As a young boy, he was educated at Eltham College. The headmaster remarked that the boy was "entirely without vanity."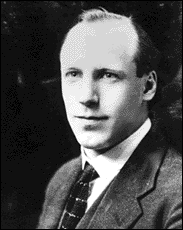 After his triumph at the Olympics, Liddell travelled to China where he was ordained as a minister in 1932, and married the following year to Florence Mackenzie. Eric and Florence had three daughters, who all live in Canada.
As political tensions in China increased, Liddell's family left the country, but he remained to continue his missionary work. In 1943, Liddell was interned in a Japanese camp in China. He suffered a brain tumor there, and died in 1945.
The critically-acclaimed 1981 film, Chariots of Fire, is based in part on the story of Eric Liddell.