One of the fathers of modern Chemistry, Joseph Black was born to John and Margaret Black in Bordeaux on April 16th, 1728. One of fifteen children and descended from a long line of wine traders, Black originally studied Arts at the University of Glasgow. However, at his father's urging to choose something more worthwhile, he eventually switched into medicine. At that time the professor of Medicine at Glasgow University was Doctor William Cullen, who, had a year before, begun to give lectures on Chemistry and, seeing potential, employed Black as his lab assistant.

Part of that percieved potential was realized several years later when, in 1757, Joseph Black was appointed Professor of Medicine and Lecturer in Chemistry at the University of Glasgow. Nine years later, Black moved to Edinburgh to succeed his old mentor Cullen to the medicine and chemistry chairs of the University of Edinburgh. Black was, by all accounts, an effective and popular teacher, so much so that most of his Glasgow students followed him to Edinburgh when he made the move in 1766. Even though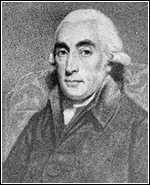 Chemistry was the field in which he made his largest contribution, his Edinburgh chemistry job was unsalaried, making it ironically the least lucrative of his occupations. In addition to the Chemistry and teaching, Black was employed outside the university as a medical doctor, treating such patients as the famous philosopher David Hume.
Among his contributions to science, three stand at the forefront. The first was that he was the person who discovered what we now know of as carbon dioxide. The second was that he was one of the first scientists to emphasize the importance of quantitative experiments. Black's third, and most important, contribution was the invention of calorimetry, the first accurate method of measuring heat, and the device itself, the calorimiter. Although evolved from his original designs, calorimetry is still used to measure heat today.
Plagued by poor health throughout his life , Black died in Edinburgh on December sixth, 1799. His is burried in Greyfriars churchyard and this year is the 200th anniversary of his death.tists to emphasize the importance of quantitative experiments.