1838-1914
Born in the coastal town of Dunbar, Scotland, John Muir's family moved to the United States when he was a boy of eleven. Muir would develop such a deep love for that country's wilderness that he would become "Father of the American Natural Parks," and one of the most famous and influential naturalists worldwide.
As a young boy, Muir worked alongside his father and brother on the family farm in Wisconsin. During the brief breaks allowed him by his strict and religious father, Muir would explore the surrounding countryside and work on his inventions. The contraptions he created out of hickory wood caught the attention of the state university, and the self-educated young man earned a scholarship to the University of Wisconsin.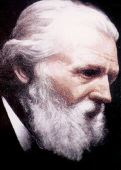 After three years at university, Muir went traveling and worked at odd-jobs for a while, until an accident in a carriage shop where he was working threatened to blind him. Muir regained his sight, but the injury proved to be a turning point for him. He began to pursue his interest in naturalism, beginning with a 1000 mile walk from Indianapolis to the Gulf of Mexico.
Muir traveled to Cuba and Panama, ending up in California in 1868. Here, he worked as a shepherd for a while, but soon began exploring the Yosemite Valley and Sierras. It may not have been apparent at the time, but Muir had found the cause that would make him famous.
In 1880, John Muir married Louie Wanda Strentzel and went to work with her father on his fruit farm in Martinez, California. The couple had two children. Long since infected with wanderlust, though, Muir did not stay put in his new domestic life. He took trips to Alaska, and overseas to Australia, South America, Africa, Europe, China, and Japan.
In the meantime, Muir's writing had caught the attention of like-minded conservationists at home in the United States. When the wilderness of Yosemite and the High Sierras was threatened, he was recruited to help protect the environment he so loved. With Joseph LeConte and others, he founded the Sierra Club and served as its president for the next two decades.
In the 1890's, Muir returned to his birthplace in Scotland. He said he always considered himself a Scot, and retained vivid childhood memories of Dunbar. Muir died of pneumonia at the age of 76. He is honored in California every year on the 21st of April: John Muir Day, for his achievements in conservation.
Some Books by John Muir:
All the World over : Notes from Alaska (Sierra Club Pathstone Editions Series)
America's Wilderness: The Photographs of Ansel Adams With the Writings of John Muir
Gentle Wilderness: The Sierra Nevada
John Muir: His Life and Letters and Other Writings
John Muir: The Eight Wilderness Discovery Books
John of the Mountains: The Unpublished Journals of John Muir
John Muir in His Own Words: A Book of Quotations
Letters from Alaska
Mountaineering Essays
Mountains of California (John Muir Library)
My First Summer in the Sierra
Nature Writings: The Story of My Boyhood and Youth; My First Summer in the Sierra; The Mountains of California
Northwest Passages from the Pen of John Muir
Our National Parks
Steep Trails (The John Muir Library)
A Thousand-Mile Walk to the Gulf
Wilderness Essays
The Wilderness Journeys: My Boyhood & Youth First Summer in the Sierra 1000 Mile Walk
Wilderness World of John Muir
Yosemite