An accomplished comedian, Scottish actor Robbie Coltrane is best known for his role as the alcoholic, gambling psychologist Eddie "Fitz" Fitzgerald in the British mystery/drama "Cracker."

Although most people know him from his portrayal of Fitz in Cracker, Coltrane has a very long list of credits. He has most recently acted in movies such as Message in a Bottle, the James Bond film Goldeneye, alongside Rene Russo and Paul Reubens (aka Pee Wee Herman) in Buddy, and less recently in comedies such as The Pope Must Diet and Nuns On The Run with Monty Python alum Eric Idle. In addition to "Cracker," he has also appeared on TV several times, including the "The Young Ones" and the "Blackadder" Christmas special. One of his first TV appearances was on the UK series "Are You Being Served?"
Among awards for this talented actor and comedian are a 1994 CableACE award for Best Actor, and Best Actor awards from the British Academy of Film and Television Arts in 1995 and 1996. Each of these awards honored Coltrane's work in "Cracker." However, Coltrane quit the series in 1996, partly out of the wish not to be type-cast and partly because he said he'd "seen other shows which have gone on and on and it didn't help them." Re-runs of the popular series can still be seen on A&E and Showcase in Canada.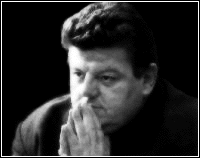 Indulging a personal interest in cars, in 1997 Coltrane hosted a TV series called "Coltrane's Planes and Automobiles." He recently appeared as Tweedle Dum to George Wendt's as Tweedle Dee in the February 1999 NBC-TV production of Alice in Wonderland, which also starred Whoopi Goldberg, Ben Kingsley, Miranda Richardson, Pete Postlethwaite, and Peter Ustinov.
Coltrane describes himself as difficult to cast, and in one interview was quick to jokingly emphasize that his role in "Cracker" has NOT made him a sex symbol. It may not be too late for that, however; watch for Coltrane to give Pierce Brosnan a run for his money in the next Bond movie, The World is Not Enough, scheduled for UK and North America release in November of 1999.
Coltrane was born on March 30, 1950 in Rutherglen, Glasgow.