ANDREW MORRISON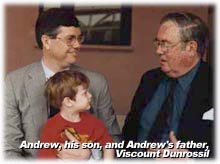 Andrew Morrison was born in London and educated in England, studying the Classics at Oxford University. He later joined the British Merchant Bank, Kleinwort Benson (now part of the Dresdner group), and was posted to the US in 1981.
Andrew now lives in San Antonio, home of the World Champion Spurs, with his Texan wife and four Texan children, and is active with a family business specializing in real estate and consumer finance. He remains a British subject and still talks funny – in fact one of his children asked him when he was going to "get over that bad accident (accent)".
Andrew enjoys teaching classes at his church on subjects ranging from Christian poetry to Celtic Christianity. His current class, News and Reviews, allows him to pontificate about anything remotely topical, the aim being to provoke a lively discussion.
Andrew's grandfather, W.S. (Shakes) Morrison, was the former Speaker of the House of Commons, and was the younger brother of the chief, Dr John. He is the son of the late Viscount Dunrossil, the former diplomat and Lord Lieutenant of the Western Isles.
Viscount Dunrossil was known as the British Diplomat who brought Nelson Mandela books at Robben Island, South Africa. Later, as Counsellor and Head of Chancery to the High Commission in Ottawa, Canada, he negotiated the release of British Trade Commission James Cross during the FLQ crisis in Quebec, in October 1970. He later became Governor to Bermuda. Andrew's father recently passed away. Click here to read Viscount Dunrossil's obituary in the Daily Telegraph March 25, 2000.
In the last two years, Andrew manned a booth for Clan Morrison at the first San Antonio Highland Games, was elected to the board of the American Financial Services Association and became the coach of his son Callum's soccer team.