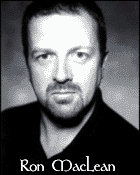 Interview with Ron McLean

Imagine a spectacular panorama of the Scottish Highlands: now imagine that image on a 360 degree photographic art print in your living room and what you have is Broader Horizons, a one of a kind art enterprise based in Glasgow, Scotland.

Photographic artist Ron McLean has taken some of the most breathtaking photos of the Scottish Highlands ever seen. At the age of 38, he was one of the country's most sought after commercial photographers, but commercial photography began to tire him and he decided to move on. The results are truly impressive, both from an artistic and technical standpoint: he now works exclusively in the field of 360 degree photos of the Scottish Highlands.

McLean does this with a specially designed camera made in Switzerland. Most cameras can only record images of what is directly in front of them, producing a two-dimensional image of a two dimensional scene. The 360 degree camera McLean uses, however, takes a picture of its entire surrounding; essentially making an two-dimensional image of a three-dimensional scene. As McLean describes it, "I'm unwrapping a three-dimensional landscape and presenting it in a two-dimensional format."
Because of the inherently two-dimensional nature of photography, this probably seems like a unusual concept, attempting to portray a 360 degree landscape on a flat image. In practice, it actually works very well. The effect is one of depth, almost an optical illusion that tricks your eyes into thinking the pictures are concave and curving towards you, rather than a flat 2-D photo. This type of photography is also inherently more difficult because it's not possible to see the image through the viewfinder prior to taking it. And not only does the photographer have to take into account the area directly ahead of him, but also the entire surroundings. According to McLean, it requires him to be "able to visualise the shot without being able to see it... it's not just a question of one part of the sky looking fantastic or one mountain being beautifully lit - all the conditions must be perfect all around you."

The finished product is likely the longest art photograph you have ever seen - each one measures 1000 mm X 225 mm (approximately 39 X 9 inches) and is individually printed on the finest 310 g art paper using high quality archive inks. Prints come in their own special package which has a high quality reproduction of the actual scene on its exterior. And to guarantee the quality that Broader Horizons promises, every print is signed by Ron McLean and numbered: the number appears on the certificate of authenticity which accompanies the print in its individual package. Beginning in April, 2000, owners have the choice of registering their print on the Broader Horizons website.

Scotland, McLean says, is ideal for this kind of photography. The scenery there is already spectacular so there is a great number of potential pictures out there. McLean says that the sheer scale of the land also lends very well to what he's trying to capture on film. He's also very passionate about Scotland; the history, the diversity of the landscapes, the clans, and the castles which are in many of his photos. Even the weather, although he's said that it's also been his nemesis on occasion because of its unpredictability.

You can read more about Ron McLean and Broader Horizons, and you can order his amazing panoramic art prints online from the Broader Horizons On-Line Store.
Go back to Broader Horizons Main Page.