~ A N C E S T R A L . R E S E A R C H . S E R V I C E S ~

Contents:
Your choice of Investigation
What will I receive ?
How far back can we go ?
How much does it cost and how long will it take ?
Our guarantee
How do I get started ?

Application form
One Line Investigation
We will research one ancestral line of the family of your choice e.g. your direct male line of descent (father's surname), as far back as records will allow.

Two Line Investigation

We will investigate two ancestral lines of the family of your choice e.g. your father and mother's surnames or your paternal grandfather's and grandmother's surnames or your father's surname and your spouse's father's surname, etc. For this investigation you will receive two separate reports.

Personalised Investigation

If neither of the above two investigations meet your particular requirements, (e.g. you have a particular ancestor that you would like traced or you have already traced your family back to the beginning of the 19th Century) our research rates are US$ 29.50 an hour, minimum of six hours research. Please send details of your requirements including what you already know and sources you have already searched. We would then return to you in about ten to twelve weeks and inform you of where we have searched and what we have discovered including providing you with births & marriage certificates, census returns, parish records and wills, etc. as found. We would also inform you of whether there is need or scope for further investigation. The presentation would include a tree however it would be in letter and documentation form only.
~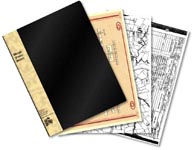 Small Sample selection of docuements

With our one or two line investigation you will receive a report containing:
Copies of original documents discovered e.g. births & marriage certificates, census reports, parish register entries, wills, newspaper reports, directory entries, original old postcards, Victorian O.S. maps etc. Obviously each investigation will contain a different mix of documentation depending on our discoveries.
A description of the step by step research undertaken on your behalf, outlining what has been discovered about your family including villages/towns that your ancestors originated from and occupations/trade they were associated with. We might even find that you are entitled to bear a Heraldic Coat of Arms.
Additional copies of the report can be purchased. This will allow you if desired to share the cost with other members of your family or give a copy as a gift.
~
In England and Wales, most families can be traced back to the middle of the 1700's and some to the start of parish registers in 1538. For our standard fee we will try to go back as far as it is possible. Much will depend on the survival of records, the distinctiveness of your ancestors' names, and the extent to which they have moved about the country.
~
How much does it cost and how long will it take?

One Line Investigation:

..3 monthly payments of US $195.00...
..or a single payment of US $565.00...
.


Two Line Investigation:

..3 monthly payments of US$365..
..or a single payment of US$995..
..
Personalised Investigation Quotation: six hours minimum research at $29.50 per hour.

If you choose to pay in instalments your report will be sent to you in three separate parts approximately every eight to ten weeks. After your first payment in advance you only pay the remaining payments once you have satisfactorily received each previous part. Your report will therefore be complete in six months. You are free to stop or postpone this process after receipt of any part. If you wish to make one single payment in advance, then your complete report will be with you in about sixteen weeks.
In the case of a personalised investigation, we would expect to get back to you an about ten to twelve weeks, obviously depending on the number of hours requested.
~
Regarding our one and two line surname investigations, if the starting point of your family is in this century and research is entirely based in Great Britain, we will guarantee to extend one line by at least three generations. If we are unable to do this, we will present you with the information we have found and refund your money less $29.50 for each hour worked.
In the case of our personalised investigation, if after two or three hours of research it becomes apparent that we can't extend your family line, we will refund the cost of the remaining hours.
We will also be pleased to provide an update while research is in progress.
All information that is supplied will be treated in the strictest of confidence and only used for the benefit of research on your behalf.
~
In order for us to begin research into your family history, simply complete our application form. Please provide us with as much information regarding your family as you know. This will ensure that no work is duplicated and will allow us to have your report ready sooner. However don't worry if you know very little, as it is possible to workfrom a name, year and place of birth (or approximate area) in Britain or Ireland.
---
~ The Gathering of the Clans ~
Main | Ancestry Research | Research Application

~ ©1998 - 1999 DISCscribe Ltd. All rights reserved. ~
---