The Clan Douglas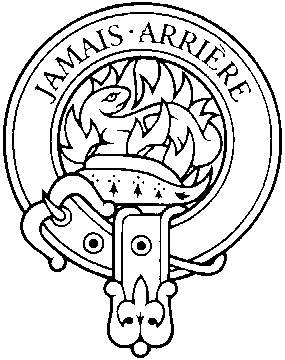 Arms: Quarterly, 1st, Azure, a lion rampant Argent crowned with an Imperial Crown Or (Earldom of Galloway); 2nd, Or, a lion rampant Gules, armed and langued Azure, surmounted of a ribbon in bend Sable (abernethy); 3rd, Argent, three piles Gules (for Wishart of Brechin); 4th, Or, a fess checky Azure and Argent, surmounted of a bend Sable charged with three buckles of the Field (Stewart of Bonkhill); overall, on a escutcheon Argent, a man's heart ensigned of an Imperial Crown Proper and on a chief Azure three stars of the Field (Douglas)
Badge: A salamander Vert encircled with flames of fire Proper
Motto: Jamais arriere (Never behind)
Gaelic Name: Dubhghlas
Tartans: Douglas, Douglas (Grey).
Septs: Cavers, Douglass, Drysdale, Forest, Forrest, Glendinning, Inglis, Kirkpatrick, Lockerby, MacGuffie, MacGuffock, Morton, Sandilands.
The Douglasses were one of Scotland's most powerful families. Sir William de Douglas had 2 sons who fought at the Battle of Largs against the Norse in 1263.

Another William Douglas was governor of Berwick and was taken prisoner when the town was besieged by the English. He was released after he agreed to accept Edward I as overlord of Scotland but later fought with William Wallace for Scotland's independence. He was captured by the English again and died in prison in 1302.

His son, "The Good Sir James" was a lifelong friend and supporter of the Bruce and died in Spain carrying the Bruce's heart to the Holy Land. Sir James had joined with the King of Castille in his crusade against the Moors and was killed leading a charge against an enemy that far outnumbered his own force. The Bruce's heart was recovered from the battlefield and returned to Scotland.

James' illegitimate son, Archibald the Grim, consolidated the family's position of power and helped defend Edinburgh castle from Henry IV in 1400. He later became Lieutenant General of Scotland. Archibald and his son were both killed fighting the English in France.

By the fifteenth century, the Douglases had become very powerful. So powerful that they were seen as a threat to the crown. In 1440, the Earl and his brother were invited to dine with the then 10 year old King James II. After dinner, the Douglasses were taken, given a mock trial and beheaded. The young King was shocked although 12 years later he invited their cousin, the new Earl to Stirling Castle where the King himself murdered him.

George Douglas, first Earl of Angus founded the Red Douglas branch of the family. He was Lord Chancelor for Scotland and his grandson married Margaret Tudor and was thus guardian of the young James I.

William Douglas became Duke of Hamilton through marriage and most of the Douglas titles devolved to the Dukes of Hamilton. The Douglas-Hamiltons are the heirs to the Clan chiefship but because of Lyon Court laws are not able to matriculate as chiefs because of their hyphenated surname.
---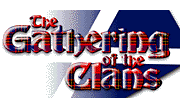 ---
Copyright &copy DISCscribe Ltd. 1997 - All rights reserved.