The Clan MacKinnon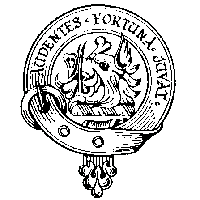 Branches: MacKinnon of Corryatachan, MacKinnon of Starthardal, MacKinnon of Acryse
Arms: Quarterly, 1st, Vert, a boar's head erased Argent, holding in its mouth the shank baone of a deer Proper (MacKinnon); 2nd, Azure, a castle triple-towered and embattled Argent, masoned Sable, windows and portcullis Gules (MacLeod.; 3rd, Or, a lymphad oars in saltire Sable; 4th, Argent, a dexter hand couped fessways Proper holding a cross crosslet fitch&ťacute;e Sable (the last two quarters for MacDonald).
Badge: A boar's head erased and holding in it's mouth the shank of a deer all Proper
Motto: Audentes fortuna juvat (Fortune assists the daring)
Slogan: Cuimhnich bàs Ailpein (Remember the death of Alpin)
Tartans: MacKinnon, MacKinnon (hunting)
Gaelic Name: MacFhionghuin
Septs: MacInnon, MacKinney, MacKinning, MacInven, MacMorran, MacSherrie, Love, Sherrie, Sherry.
The MacKinnons, one of the branches of the great Siol Alpein(Clan Alpin), descended from and named by Fingon, brother to Andrew who was ancestor to Grigor and the MacGregors, and great-grandson of Kenneth MacAlpine.

The Mackinnons of Arran sheltered Bruce while he was in hiding and helped him escape back to Carrick. After Bannockburn they were rewarded with land on Skye and were styled MacKinnon of Strathardale. One branch of the chiefly family were the hereditary abbots of Iona, the center of the Celtic Church. The last hereditary abbot was John MacKinnon, 9th Cjief and Bishop of the Isles. He died in 1500.

The MacKinnons regularly feuded, in god Highland fashion. whith their neighbours, the Macleans. In one such feud, the Macleans seized some MacKinnon land on Mull while the MacKinnon chief was on Skye. On learning of this the MacKinnon chief gathered his men and waited until the Macleans were celebrating their victory in a great feast. After allowing enough time for the Macleans to drink themselves into a stupor. MacKinnon then had his men cut and trim fir trees and plant them all around the hall in which the Macleans were partying. The chief himself place atree in fron t of the door along with a sword. When the Macleans came out the next morning and saw that they were surrounded by the MacKinnon plant badge they promptly withdrew from MacKinnon lands realising that could have all have been slaughtered that night.

The Clan fought for Charles I at Inverlocky, under Montrose, when the wonderful staying-powers of his Highlanders enabled him to surprise Argyll through a forced march. They were at the Battle of Worcester and in both Jacobite Rebellions, in 1715 and 1745. In July 1746 the aged Chief and his family took over from Flora MacDonald a further anxious stage in aiding Prince Charlie's escape after Culloden.

After being forced to part with their lands in 1791, they are now landless. After some dispute, the Clan placed the chiefship with MacKinnon of Acryse.
---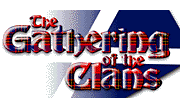 ---
Copyright &copy DISCscribe Ltd. 1997 - All rights reserved.