The Clan MacLeod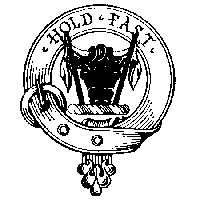 Branches: MacLeod of Harris and Dunvegan, Macleod of Lewis and Raasay
Arms: Quarterly, 1st & 4th, Azure, a castle triple-towered and embattled Argent, masone Sable, windows and porch Gules (MacLeod of the Ilk); 2nd & 3rd, Gules, three legs in armour Proper, garnished and spurred Or, flexed and conjoined in triangle at the upper part of the thigh (Royal House of Man).
Badge: A bull's head cabossed Sable, horned Or, between two flags Gules, staves Sable (MacLeod of MacLeod); The sun in his splendour Or (Lewis).
Mottos: Hold Fast (Harris); I shine, not burn (Lewis)
Tartans: MacLeod of MacLeod, MacLeod of Lewis
Gaelic Name: MacLeòid
Plant Badge: Juniper
Septs: of Harris: Beaton, Bethune, Beton, Grimand, Grimmand, Grimmond, Grimond, Grinan, Grinnan, Harald, Harold, Harrald, Harraldson, Harrold, Harroldson, MacAndie, MacAndy, MacAskill, MacCaig, MacCagie, MacCagy, MacCandie, MacCandy, MacCloor, MacClure, MacCowag, MacCraild, MacCrimmon, MacCrimman, MacCrivag, MacCuaig, MacGrimman, MacGrimmon, MacGrinnan, MacGrinnon, MacHarald, MacHarold, MacHarrald, MacHarrold, MacLeur , MacLure, MacLoor, MacRaild, MacWilliam, Norman, Normand, Williamson.
of Lewis: Askey, Askie, Aulay, Callam, Callum, Caskey, Caskie, Challum, Lewis, MacAbe, MacAllom, MacAllum, MacAsgill, MacAskey, MacAskie, MacAskill, MacAulay, MacCabe, MacCalim, MacCallam, MacCallum, MacCaskill, MacCalume, MacCaskell, MacCaskie, MacCaybe, MacClure, MacCorkindale, MacCorquodale, MacCorkill, MacCorkle, MacGilliechallum, MacKaskill, MacKorkill, MacKorkle, MacLewis, Malcolmson, Norie, Norrie, Norry, Nory, Tolmie
The progenitor of the MacLeod's was Leod, younger son of Olaf the Black one of the last Norse Kings of Man and the Isles. Leod imherited Lewis and Harris along with parts of Skye on his father's death in 1237. Through marriage to the Norse seneschal of Skye the family acquired Dunvegan Castle, which remains in the family to this day. The Clan consists of two main branches: the MacLeods of Lewis descend from Leod's son Torquil while the MacLeods of Harris and Skye descend from another son, Tormod.

The MacLeods followed the MacDonald Lord of the Isles in the Battle of Harlaw of 1411 but were able to steer a hazardous political path when James IV sought to break the power of the Lords of the Isles. The success of the Clan can also be traced to the political talent of the 8th Chief Alistair Crotach. He not only managed to avoid the wrath of James V at a time when most Highland chiefs were imprisoned or driven from their lands, but also succeeded in securing the title to Trotternish in 1542. Trotternish had long been in dispute with the MacDonalds of Sleat.

The MacLeods of Lewis, who had never fully accepted the commands of the MacLeods of Dunvegan were forced to on the death of Torquil MacLeod of Lewis in 1597. The barony fell to Sir Roger MacKenzie of Cogeach, Torquil's son-in-law. The representaion of the MacLeods of Lewis passed to the MacLeods of Raasay. In 1988, Torquil MacLeod of Raasay re-matriculated his arms to be recognised by the Lord Lyon as Macleod of the Lewes, Chief and Head of the Baronial House under the MacLeod of MacLeod.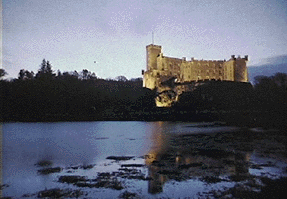 The MacKenzies occupied Lewis and to the day the MacKenzie chief calls his seat Castle Leod.
In the 18th century, the MacLeod chief led his Clan to England to fight for the Royal cause at the Battle of Worcester of 1651. Over 500 MacLeods were killed by Cromwell's forces, forcing the Clan to sit out of the Jacobite rising of 1715. They thought the '45 to be ill-conceived and did not join Bonnie Prince Charlie at Culloden. The Macleods of Raasay joined the prince, taking many of their clansmen with them.
The most treasured relic of the Clan MacLeod is the "am Bratach Sith" or the Fairy Falg of Dunvegan. It is said to have been woven by fairies to be used by the chief of the MacLeods in dire times. Belief in its power is strong and its magic has been called upon to turn defeat in victory on at least two occassions.
Dunvegan Castle has been renovated and is still the home of the Chief. An active Clan society exists with branches around the globe.
---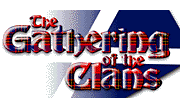 ---
Copyright &copy DISCscribe Ltd. 1997 - All rights reserved.