The Clan Scott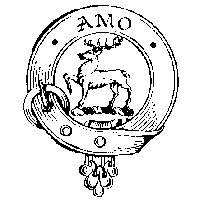 Badge: A stag trippant Proper, attired and unguled Or.
Branches: Scott of Balweary, from which Scott of Ancrum; Scott of Buccleuch, from which Scott of Synton, from which Scott of Harden, from which Scott of Polwarth
Tartans: Scott, Scott (hunting), Sir Walter Scott (check).
Motto: Amo (Latin: I love)
Slogan:A Bellendaine ("To Bellendean", the meeting place of the clan, near the head of Borthwick Water, Roxburghshire)
Uchtredus filius Scotus, "Uchtred, son of the Scot", witnessed charters between 1107 and 1128. From his two sons descended the Scotts of Balweary (Fife) and the Scotts of Buccleuch (Selkirk). Michael Scott of Balweary (1175-1234), known throughout Europe as "The Wizard" for his study of magic, was also a mathematician and physician. Sir Michael Scott of Balweary, probably his direct descendant, was in 1286 sent to fetch home Margaret, "Maid of Norway", heir to the throne, after the death of her grandfather, King Alexander III.

Sir Walter Scott of Buccleuch (1565-1611), Keeper of Liddesdale, was created Lord Scott in 1606, and his Son Walter was made Earl of Buccleuch in 1619. Anne, Countess of Buccleuch, to whom the earldom and the chiefship of the clan passed after the deaths of her father, 2nd Earl, in 1651 and subsequently of her elder sister, married James, Duke of Monmouth (1649-1685), illegitimate son of King Charles II, in 1673, when they were made Duke and Duchess of Buccleuch. Even though Monmouth was beheaded for rebelling against his uncle, King James II (of England), the dukedom was unaffected, and Henry (1746-1812), 3rd Duke, became also Duke of Queensberry in 1810, through his grandfather's marriage in to that line.

Walter Scott of Harden (d.1629) was a notorious cattle-rustler, of whom it is said that when the last beast of a particular haul had been eaten, his wife would serve him a dish on which was a pair of clean spurs, indicating that the larder should be replenished. His first wife was Mary, "Flower of Yarro", and from them descended the Hepburne-Scotts, lords Polwarth, and Sir Walter Scott (1771-1832), 1st Laird of Abbotsford, poet and novelist, historian and folklorist, and instigator of much of the modern Highland and tartan image. The baronetcy which he was given by King George IV in 1820 became extinct on the death of his son, Walter, in 1847, but the direct line of descent continued through his daughter Sophia (d. 1837), wife of John Gibson Lockhart (1794-1854), biographer of Sir Walter. Their daughter Charlotte married James Hope, who assumed the name Hope-Scott when she succeeded to Abbotsford House on the death of her brother in 1853. Their daughter, Mary Hope-Scott, heiress to Abbotsford, married in 1874 Joseph Maxwell, third son of Lord Herries, who took the name of Maxwell-Scott.
---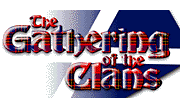 ---
Copyright &copy DISCscribe Ltd. 1997 - All rights reserved.