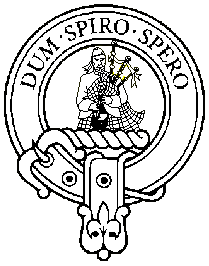 Clan MacLennan Association, USA Inc.
Clan News
Chief Ruairidh Donald George MacLennan of MacLennan will be our guest of honour in October, 1996. Click here for more information.

On February 25th, 1995, the Clan MacLennan Association USA, Inc. was formally inducted into membership as the 42nd Clan to deposit its history at the Odom-Payne Genealogical Library in Moultrie, Georgia.

For more information, please contact:
Odom-Payne Genealogical Library

ATTENTION: Beth Gay

PO Box 1110

Moultrie, GA 31776

Phone 912-985-6540

Fax 912-985-0936.
Association Organization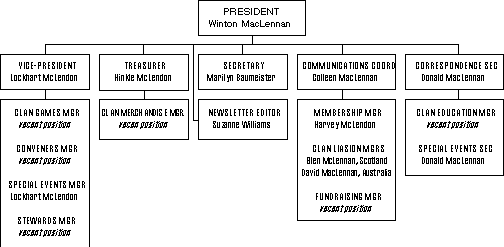 ---
Lieutenants function as educators, spreading the Chief's message everywhere they go.
Conveners set-up Clan tents at Highland Games and other events.
Stewards assist the Lieutenants & Conveners within the eleven areas.
If you are interested in serving the Clan in any of these leadership positions, please contact Colleen MacLennan or Win MacLennan:
Colleen MacLennan

8100 West Crestline Ave,

Littleton, CO 80123

phone: 303-932-2939

Winton Donald MacLennan

1425 Stainbeck Avenue,

Nashville, TN 37207

phone: 615-650-0443

e-mail: winthescot@aol.com

Membership
Annual memberships are available to interested persons and their immediate family members (spouse and children under 18 years of age) who qualify by name or descent. Dues and donations are used to help finance local, regional, and national Clan efforts.

Benefits of membership include: quarterly newsletters, access to genealogical information, and the opportunity to network with other MacLennans in the United States and around the world.

Because memberships in the not-for-profit Clan MacLennan Association USA, Inc. are tax-deductible, they make perfect gifts for birthdays, graduations, weddings, and Christmas.
1st Year Dues

$20 per individual membership
(plus $10 per each child under 18 and spouse)

Renewal Dues -- must be received by November 1st of each year

$15 per individual membership
(plus $5 per each child under 18 and spouse)
Click here to view a membership application which can be printed and mailed.
---
Click here for MacLennan contacts in your area. [an error occurred while processing this directive]