The Clan Chattan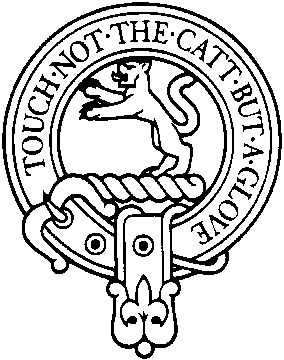 Badge: A cat salient Proper
Motto: Touch not the cat but a glove
Plant Badge: Red Whortleberry
Tartans: Clan Chattan
Gaelic Name: Clann Gillacatan
Member Clans: MacKintosh, MacPherson, MacGillivray, MacGowan, MacQueen, MacBean, Farquharson, Davidson, Shaw, MacThomas, MacPhail, Macleans of Dochgarroch and MacIntyre of Badenoch.
The clan name comes from its first chief, Gillichattan Mor, meaning the great servant of St. Catan, whose abbey was situated at Kilchattan on the island of Bute in the Firth of Clyde. The clan Chattan is a confederation of tribes. Through it, small clans gained stength by joining forces to avoid being overwhelmed by more powerful neighbours, such as the MacDonalds of the Isles.

In 1291, Eva, daughter of Gilpatric of Clan Chattan married Angus MacKintosh, 6th Chief of the Clan MacKintosh, thereby unifying the chiefly line of the Clan Chattan and Clan MacKintosh for many centuries.

In the late 13th century the Camerons occupied some Clan Chattan land around Arkaig thereby starting a bitter feud between Clan Chattan and the Camerons that would last until 1666. In 1370, a group of Camerons, returning from a raid into Badenoch, were met by a force of MacKintoshes, <! A HREF="../MacPherson/macpherson.html">MacPhersons and Davidsons. Although the Camerons were defeated the battle led to a long standing feud between the MacPhersons and the Davidsons over a disagreement on who should lead in the battle.

During the 1715 and 1745 uprisings the Clan Chattan largely fought on the Jacobite side and suffered because of this. During the '45, the chief of the MacKintoshs was an officer in the Black Watch. This, however, did not stop his wife (a Farquharson), from raising the Clan Chattan confederation in his absence. She selected the MacGillivray of Dunmaglas as commander and he led the Clans of Clan Chattan to victory in the Battle of Falkirk in 1746. The Clan Chattan also led the Highland charge that was utterly destroed at the Battle of Culloden.

Until this century, the chief of the MacKintoshes was also head of clan Chattan. However, when the 28th MacKintosh chief, who was also the 29th Chattan chief, died in 1938 without a male heir, the two chiefships finally became separated. In 1947, the Lord Lyon ruled in favour of another branch of the MacKintoshes, those of Daviot, Inverness-shire, who were recognised as heads of Clan Chattan. The present chief, Malcolm Kenneth MacKintosh, lives in Zimbabwe.
---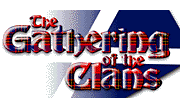 ---
Copyright &copy DISCscribe Ltd. 1997 - All rights reserved.