The Clan Davidson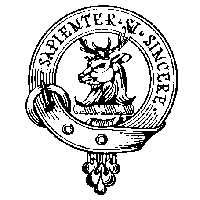 Branches: Davidson of Cantray, Davidson of Tulloch.
Arms: Argent, on a fess Azure between a dexter hand couped accompanied by two pheons in chief and a pheon in base Gules, a buck lodged Or. Above the Shield is placed a helmet befitting his degree with a Mantling Azure doubled Argent and on a Wreath of his liveries is set for a Crest a stags's head erased Proper and in an Escrol over the same this motto "SAPIENTER IS SINCERE".
Badge: A stag's head erased Proper
Motto: Sapienter si sincere (Wisely if sincerely)
Gaelic Name: MacDhaibhidh
Tartans: Davidson, Davidson of Tulloch,Davidson "Double".
Septs: Davey, Davie, Davis, Davison, Dawson, Day, Dea, Dean, Deane, Deas, Deason, Dey, Dow, Dye, Kay, Keay, Key, Keys, MacAdie, MacDaid, MacDavid, MacKay, Slora, Slorach.
The Clan began in the early 14th century with Donald, 3rd son of Robert Comyn and the grandson of the Comyn killed by the Bruce at Dumfries, married the daughter of the MacKintosh chief. The name of the Clan comes from their son, David. His family and followers being known as Clan Dhai as the name Comyn was proscribed around 1320.

The Davidsons were almost wiped out at the Battle of Inverhaven in 1370. They followed the MacKintoshes and others of Clan Chattan against the Camerons who had invaded Badenoch. A dispute arose between the Davidsons and <! A HREF="../MacPherson/macpherson.html">MacPhersons over the right to command. When the MacKintoshes supported the Davidson side, the MacPhersons left the field.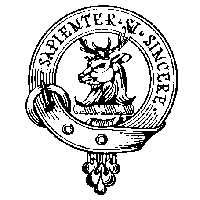 The Camerons exploited the chaos and virtually destroyed the Davidsons. The MacPhersons did eventually take the field and routed the Camerons.
By the 16th century the name Davidson had spread from Aberdeen to Ayr. There was a family of Davidsons at Samuelston in the Borders and the name Davidson can be found along with the Elliots and <! A HREF="../Turnbull/turnbull.html">Turnbulls as wild and unruly Clans.
Duncan Davidson, Lord Lietenant of Ross-Shire, was a favourite of Queen Victoria whom he used to visit regularly when she visited Balmoral.
A direct descendant of the Davidsons of Tulloch, now living in New Zealand, is seeking to matriculate the arms in the Court of the Lord Lyon and claim the chiefship.



---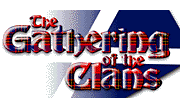 ---
Copyright &copy DISCscribe Ltd. 1997 - All rights reserved.