The Clan MacBean (MacBain)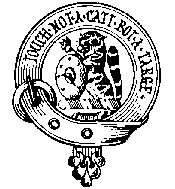 Arms: MacBain of Kinchyle
Badge: A grey demi catamountain, salient, on his sinister foreleg a Highland targe, gules.
Tartans: McBain
Branches: MacBean of Kinchyle, MacBean of Drummond, McBean of Faillie, MacBean of Tomatin.
Mottos: Touch not a catt bot a targe.
Gaelic Name: MacBheathain (Son of the Lively One)
Plant Badge: Boxwood (official) and Red Whortleberry (for Clan Chattan)
Septs: Bean Bain Bane Bayne Vean Beth Beath Beene Binney MacBean Macbean Mackbean M'Bean MacVean MacIivain MacVain MacVane MacBain McBain MacBane MacBayne MacBeth MacBeath MacBan.
The Clan MacBean is of ancient origin and is claimed, by some authorities, to have sprung from the ancient House of Moray. The name appears in different forms as MacBean, MacBain and McVean. An early scottish king was known as Donald Ban.

Originally the MacBeans are said to have come from Lochaber in the suite of the heiress of Clan Chattan and settled in eastern Inverness-shire. Myles MacBean was a strong supporter of Mackintosh against the Red Comynn, and at the Battle of Harlaw in 1411, many of the MacBeans fell fighting for Mackintosh. The The principal family were the MacBeans of Kinchyle, and Kinchyle signs several important Clan Chattan agreements in 1609, 1664 and 1756. Other families were the MacBeans of Drummond in the parish of Dores, MacBean of Faillie in Strathnairn and MacBean of Tomatin in Strathdearn.

The MacBeans were ever a war-like clan, and at the Battle of Culloden, Gillies MacBean, filling a breach in a wall, killed fourteen of the Hanoverian side before he fell. His feat was almost emulated over a century later by Major-General William MacBean, who enlisted in the 93rd regiment in 1873. He gained the V.C. for attacking and killing single-handed eleven of the enemy in the main breach of the Begum Bagh at Lucknow in 1858. Another member of the clan, Major Forbes MacBean of the Gordon Highlanders, gained the D.S.O. for his gallant conduct at the taking of the heights of Dargai in 1897.

(from "The Clans and Tartans of Scotland" by Robert Bain)

Clan MacBean's Moon Tartan

Clan MacBean tartan is the ONLY tartan to have gone to the moon. Astronaut Alan Bean took some on Apollo 12's journey. Half was left there as a flag, the remainder returned for the clan archives. A small portion was attached to one of Alan's paintings (Clan MacBean Arrives on the Moon) which he presented to the Clan at its 1996 Gathering. No other clan can say that their tartan is "Out of this world!"

(provided by the Clan MacBean in North America, Inc.)
---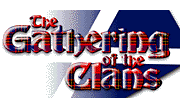 ---
Copyright &copy DISCscribe Ltd. 1997 - All rights reserved.